Web Exclusive: Just One Question
In his new book One Question: Life-Changing Answers from Today's Leading Voices, (now available on Amazon), radio talk show host Ken Coleman poses an essential inquiry to 36 leaders in fields from technology to business, politics and sports.Here are two excerpts from the book, one-question interviews on the topics of dreams and feedback, with Blake Mycoskie, founder of TOMS Shoes, and Jack Dorsey, founder of Twitter and Square.
Blake Mycoskie is a dreamer—he lives on a sailboat in Los Angeles—but he's the kind of guy who gets things done. Before launching TOMS, he started five businesses, including an online driver education company and a successful national campus laundry service. Always the competitor, he competed in the CBS series The Amazing Race and came within minutes of earning the $1 million grand prize.
I decided to ask him what he believed was the key to realizing one's dreams.
Ken Coleman: What would you say to people who have a big idea but are full of anxiety because they do not know where to start or how to get going? How can they begin to make their dreams a reality?
Blake Mycoskie: One of the things I think is really important is the idea of starting small. When I started TOMS, my goal was to help 250 kids. Just 250 kids. I did not quit my job, I did not go out and raise a bunch of money, and I did not spend a year working on a business plan. I saw that there was this need in Argentina, and I wanted to help these 250 kids in a sustainable way.
I was concerned that these kids needed shoes and that the need was completely dependent on donations. I did not want them to be wondering when and where they would get their next pair of shoes. That's when I decided to start this business on the one-for-one model. So we started really small and the two hundred fifty became a thousand and then five thousand and then ten thousand, and now something that started out as extremely small has now given over two million children a new pair of shoes. My advice is to find your dream and then start small.
Jack Dorsey's careful planning has resulted in the creation of two business icons and landed him on the prestigious list of Time's 100 Most Influential People. His net worth is estimated at more than $330 million, and he is only in his mid-thirties. When I sat down with him, I wanted to know what role feedback and testing played in his business endeavors.
Ken Coleman: How important is feedback to you and your process of testing an idea as you move it to completion?
Jack Dorsey: I found myself early, early on thinking about what I could build. I would think, "If only I had this technology" or "If only I had this person to work with" or "If only this macro event was happening in the world, then I could really do this." But then I realized I was making excuses not to work on it. So I found that if I drew it up and got it out of my head, I could start criticizing it from a third-party perspective. I could start seeing it outside of my own head, and I think that's really, really important.
The second most important thing is to take the idea to a friend or a colleague or a family member and say, "Look, this is an idea I have, I think it's pretty interesting. What do you think? Or even better, to actually program or create something and then show the friends or colleagues how they can use it or immediately get value out of it. You need to see their different perspective and way of thinking, and you can react to it defensively or you can allow it to be an inspiration.
I learned how to treat it more as an inspiration, as a way to drive the product forward. The biggest thing feedback does is allow you to have a moment where you can express what you are thinking, why you are thinking about it, and you can make a decision as to whether you should commit yourself or move on. And moving on doesn't mean forgetting about that idea, it means putting it on the shelf for now and maybe it emerges in another way or another time in your life.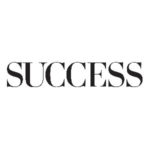 SUCCESS is your guide for personal and professional development through inspiration, motivation and training.