Top of Mind: Thoughts on Mastering Life and Business
I'm reading Thierry Malleret's book, Disequilibrium: A World Out Of Kilter
. Earlier this year, I heard professor Malleret speak at the Billion Dollar Roundtable, which I was fortunate enough to attend as a guest of our customer Ford Motor Co. It is all about change in the business and political world. And what a changing world we live in! I'm wondering what the next years will bring and what innovations I can bring forward during those years.
—Hannah Kain, president and CEO, ALOM
In my business, I'm constantly focusing on what's the best way to leverage big data to uniquely predict customers' next moves before competitors can. To do this, we must either know something competitors don't know (which requires unique access to data) or to have the ability to extract unique insights from data that competitors didn't see. New consumer data types and streams are coming into the marketplace constantly—via websites, video, mobile, social, digital TV, wearables, etc. Keeping ahead of this deluge means we're in a continuous product innovation cycle. It's a good thing I'm addicted to speed! This is the only way to maintain the pace needed to win in a big data world.
—Omar Tawakol, CEO, BlueKai
I look at every sector of business and ask, "How would I improve this? What would I like to see as a customer or client?" Often, not only do I find no way to improve on the model, but I marvel at how well companies exceed in delivery of their promise and my expectations. Still, I think it's incumbent upon everyone in business to remember that every aspect of business and life can be improved—you just need a plan, then take the first step.
—John Leonesio, chairman of the board, Joint Corp.
Just as I think I have mastered my business, another lesson is sent my way. In order to prepare for the day's lessons, every morning before I get out of bed, I set a timer for five minutes, sit "crisscross applesauce" and breathe in and out. For the last two minutes, I pick two inspiring words—"creative and playful," "productive and clear" or any word combo that will inspire my day. It is amazing what five minutes and two words can do.
—Rob Israel, co-founder and "Big Pop," Doc Popcorn
I place an enormous amount of value on building relationships. One book I've grown fond of is Never Eat Alone
, by Keith Ferrazzi. I suggest this book to many people I work with; the main premise is to capitalize on moments when you have an opportunity to reach out, meet someone new and build your network. You'll never find me eating alone or at my desk—I really like to get out of the office, meet a new or potential client or partners, and pick their brains over a meal or glass of wine. Relationships are key.
—Mark Hadland, CEO, Level 11
I started my company with $40 cash and a negative bank balance three years ago at a Florida yard sale…. and my model was to put it all back. What am I excited about going into 2014? I am excited to no longer be the hustler parlaying my capital from week 1 to week 2. I never really got out of that "yard sale" mentality because I was expanding with every dime of surplus I had.
—Justin Ligeri, CEO, Yagoozon Inc.
I am focusing on having it all but defining "all" more clearly and saying that it is OK to limit what "all" means to me.
—Maria Izurieta, CFO, 3Pillar Global
Right now I'm simplifying, personally and professionally. Less is more. I used to have a ton of clothes – this is both literal and a metaphor. Now I'm going after quality, not quantity. I think about the private school uniform, which I looked on disdainfully, but it is easier; you don't have to think. There is a lot of merit in being freed up to focus on important things. I want to go through everything in my house and strip it down to the essence. And I'm doing the same at my company. Focus, focus, focus!
—Julie Rose, founder and president, Sweet Hospitality Group
My experience in life has taught me that whenever we try to do something significant, there will always be opposition. The beginnings of Goal Zero started by simply trying to do good; our vision was to help people out of poverty. We ran into so many obstacles that one day I said, "I give up. I can't do this anymore." Almost immediately a thought came to me: If not you, who? If not now, when? That was profound, and it gave us the courage to work through our problems.
—Robert Workman, chief creative officer, Goal Zero
I am reading Guns, Germs, and Steel
by Jared Diamond. I love Diamond's writing style and persuasive arguments [that geography and environment have been the most significant factors in human evolution and societal development]. Oftentimes taking a stand is tough when beliefs about development are so entrenched, and I appreciate his strong and different perspective.
—Laura Marriott, CEO, NeoMedia Technologies Inc.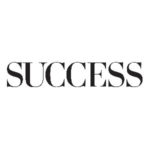 SUCCESS is your guide for personal and professional development through inspiration, motivation and training.