Startup Stories: FedEx, Amazon and Martha Stewart Living
Successful entrepreneurs stand a breed apart.
Whether pursuing a singular passion or a burning desire to create, the best entrepreneurs are always probing for improvement, embracing change and learning from failure as much as from success. The lions of entrepreneurship misstep like the rest of us, but they also wield a stubborn confidence and an amazing ability to adapt, survive and thrive in the face of common fears. Consider these less than auspicious beginnings:
• A Yale economics professor told a young Fred Smith his term paper, based on an idea for a company that would guarantee overnight delivery to major U.S. cities, was foolish, and gave Smith a subpar grade for his work.
• Critics and advisers told Jeff Bezos the range of products his cutting-edge startup Amazon.com website offered was too broad and not economically viable.
• Naysayers crowed that no one would sit in front of the television to watch Martha Stewart, a fussy perfectionist, on the ABCs of style. One thing Smith, Bezos and Stewart shared was that they looked beyond potentially paralyzing fears to focus on driving their businesses forward.
* * *
Fred Smith knows how to deliver—and evolve. While many textbook entrepreneurs possess management skills best suited only for the startup stage of a business, Smith's ability to adapt and integrate his company mission through more than 35 fast-paced, competitive and turbulent years provides valuable insight for today's entrepreneurs.
An amateur pilot, Smith enlisted in the Marine Corps upon graduation from Yale and served two tours in Vietnam, earning two Purple Hearts. He often cites the leadership and teamwork training he received from the Marines as integral to his success.
Undaunted by the Yale professor who had argued that few people would pay a premium for overnight delivery, upon Smith's discharge from the military, he returned to the idea that has almost single-handedly changed the way business is conducted. Although 24-hour cargo delivery is commonplace today, in 1971 it was almost unthinkable. Smith took a controlling interest in an aircraft maintenance company, cobbled together some venture capital funds with his inheritance, and in 1973 launched Federal Express Corp. (The name came from his failed attempt to obtain a contract to fly checks from one location to another for the Federal Reserve Banking system.)
"People thought we were bananas," Smith told The New York Times in 1979. "We were too ignorant to know that we weren't supposed to be able to do certain things."
Ignorance became bliss. Federal Express became the first U.S. company to earn $10 billion in profit, and the first service company to win the Malcolm Baldrige Award, the U.S. benchmark for outstanding companies.
The journey wasn't textbook at times: Stories are legion, such as early Federal Express drivers reaching into their own pockets to pay for their trucks' gasoline and a cash-strapped Smith flying to Las Vegas to play the blackjack tables (he reportedly wired the $27,000 he won back to the company). More fundamentally, a basic Smith philosophy, P-S-P, drove the FedEx success: people, service, profit. Smith's belief is that the three concepts work in a circle, each supported by the others. He was accessible to his employees and clients. A fairness doctrine was fixed on the wall of every FedEx property as he built a tough-minded community that favored risk-taking. Smith insists that fair treatment instills company loyalty, and that company loyalty always pays off.
"I think it's unfortunate that to some degree the word 'entrepreneur' has taken on the connotation of gambler," Smith said midway through the growth of the company. "I don't see it that way at all. Many times act ion is not the most risky path. The most risky path is inaction."
In 1988, Federal Express bought an international freight carrier and became global. In 1994 it changed its name to FedEx. Competition has been and continues to be fierce, but FedEx is a linchpin of the just-in-time deliveries revolution.
Smith is not without his side interests, on his terms. Although he has no day-to-day involvement, for more than 10 years he has helped bankroll the fiscally prudent Alcon Entertainment, the movie production group that has done projects such as 2009's Oscar-winning The Blind Side.
"Very rarely have I ever seen any business or major undertaking that goes in a straight line," he says. "There are zigs and zags, victories and defeats, and you have to be propelled by that conviction that what you're doing is right and what you're doing is important, and to persevere in it."
* * *
When Jeff Bezos announced Amazon.com Inc. was folding the meteoric-growing Zappos Inc. into his organization through a stock swap in 2009, he released an Internet video in which he discussed "everything I know, and it's a short list." The brief, informal sermon spread across the Net like wildfire; it also said as much about why Amazon has been so wildly successful as it did about why the company was interested in Zappos.
"The first thing I know is that you need to obsess over customers," the 46-year-old Bezos begins. "I can tell you that we have been doing this from the very beginning, and it's the only reason that Amazon.com exists today in any form. We've always put customers first. When given the choice between obsessing over competitors and obsessing over customers, we always obsess over customers."
That obsession helped change the way people interacted with the Internet and is why Amazon is one of a handful of its pioneers that continue to thrive.
After graduating from Princeton University with a degree in computer science and electrical engineering, Bezos worked at Fitel, a startup company building an international trade network; at Bankers Trust, where he rose to the vice presidential level; and at D. E. Shaw, a firm specializing in developing computer science applications for the stock market. After he discovered that usage on the neophyte World Wide Web was increasing 2,300 percent a year, he methodically studied the top 20 mail-order businesses, with an eye toward what made sense for transition to the Web.
He settled on books for a number of reasons, not the least being that major book wholesalers had already compiled electronic lists of their inventory. In 1995, Bezos opened Amazon.com and told his several-hundred beta testers to spread the word. No advertising, no press. Within 30 days, the company had sold books in all 50 states and 45 foreign countries. It became a master of the up-sell strategy, showing customers interested in one product others they might also prefer. Amazon addressed its customers by their first names in all correspondence. Today, it is the leading online retailer, offering services that traditional retailers cannot: lower prices, authoritative selection and a wealth of product information.
"The second thing I know is—invent," Bezos says. "It's really important to invent [Amazon examples are Kindle and EC2]. Anytime we have a problem, we never accept 'either-or' thinking; we try to figure out a solution that gets both things, and that often requires invention. You can invent your way out of any box if you believe that you can. What we talk about is inventing on behalf of customers—it's not a customer's job to invent for themselves. You need to listen to customers; it's critical."
Bezos also stresses how critical it is to think long term and not just give it lip service. "I find that most of the initiatives we undertake may take five to seven years before they pay any dividends for the company," he says. "They may start paying dividends for customers right away…. We can tolerate being misunderstood [and] if we think we're right, then we continue. If we think we're wrong, if we're criticized about something and we think we're wrong, we change it. We fix it."
Bezos concludes with the credo that keeps driving him forward: "The final thing that I know, it's always Day One. There's always more invention in the future, always more customer innovation—new ways to obsess over customers."
* * *
Each life and business enterprise is full of twists and turns. Few people know that better than Martha Stewart.
The story of America's style maven began when she started modeling at 13. She married before completing college and continued modeling to pay her tuition. She started a family and then found some success as a stockbroker. As a model and broker, she studied the cuisine she encountered around the world and peppered the chefs at New York's best restaurants with questions. In doing so, she set the plate for her own entrepreneurial empire.
Martha's Rule No. 1: Build your business success around something that you love—something that is inherently and endlessly interesting to you.
In 1976, she tapped into the knowledge gained and her years of cooking alongside her mother and grandmother to open a catering business she operated from the basement of her Connecticut home. She contributed articles to The New York Times and served as the food and entertainment editor.
Martha's Rule No. 2: Focus your attention and creativity on basic things, things that people need and want. Then look for ways to enlarge, improve and enhance your big idea.
While rubbing elbows at a party she catered in 1980, the president of Crown Publishing Group asked Stewart to write a book of party tips. Entertaining (1982) was an immediate hit, selling more than 625,000 copies. Other equally successful book projects followed. She began marketing how-to videos and CDs. The juggernaut was launched. Time-Warner helped finance the bimonthly magazine Martha Stewart Living in 1990. In 1988, Time dubbed her "the guru of good taste." By 1999, Martha Stewart Living Omnimedia made its initial public offering.
Martha's Rule No. 3: By sharing your knowledge about your product or service with your customer, you create a deep connection that will help you learn how to best build and manage your business.
The legal issues that ensnarled Stewart between 2002 and 2006 challenged both her personal and professional life. While she fought insider-trading charges, the stock value of her company took a nosedive, and the brand she had spent a lifetime building was imperiled.
She was down but not out. Her five months of minimum-security incarceration followed by five months of house arrest sent her back to her entrepreneurial roots. Stewart talked of how female inmates, undaunted by their situation, approached her with business plans to get her opinion. After one such meeting, she started a candid outline for what would become the The Martha Rules: 10 Essentials for Achieving Success as You Start, Build, or Manage a Business (Rodale Books, 2005).
She came back strong, refocusing her energy on Martha Stewart Living magazine, launching an interior paint line for Sears and making a comeback on television. In 2005, Stewart joined reality TV veteran Mark Burnett to produce The Martha Stewart Show, a daytime show similar to and as popular as her previous one, and the less-than successful The Apprentice: Martha Stewart. Her brand bounced back.
"However bleak things may at first appear, if you are a good person doing things for the right reason, there is always something to grasp onto to help you carry on or start over again," Stewart says. "There is no entrepreneur, anywhere, whose journey is without setbacks and crossroads."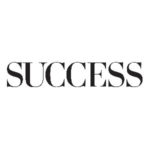 SUCCESS is your guide for personal and professional development through inspiration, motivation and training.