My Way: 8 Things That Inspire Us to Aim High
Who?
Steph Korey and Jen Rubio, co-founders of Away
Where?
New York City
What?
Korey and Rubio met while working together at Warby Parker—they started on the same day in 2011. Rubio was the company's head of social media, and Korey was the head of supply chain. Together Korey and Rubio saw an opportunity to disrupt the luggage industry by creating high-quality and innovative products at affordable prices while cutting out the middleman and going directly to their customers. They founded Away in 2015 and raised $2.5 million in a seed round of funding. Today, Away has stores in New York, Los Angeles and online.
I loved reading…
SK: Adam Grant's Originals. The idea that you shouldn't do something just because that's the way it's always been done was refreshing and rings true in how we operate at Away.
I always cry watching…
JR: The Pursuit of Happyness. I spend most of the movie in tears, but talk about a story of resilience and determination.
What's your favorite quote?
JR:
"You start dying slowly
if you do not travel,
if you do not read,
if you do not listen to the sounds of life,
if you do not appreciate yourself."

MASHA MALTSAVA; AWAY
A go-to band on my playlist is…
JR: Haim. The sisters stayed and performed at Chez Away (our pop-up hotel in Paris) and have become great friends of the brand. They're talented, fun and extremely gracious.
I handle disappointments by…
SK: Trying to remove the emotion from the situation and framing things rationally and objectively. There's always a lesson to be learned, which has made us resilient and kept us moving in the right direction.
My secret weapon is…
SK: I have a knack for seeing things from a 10,000-foot view and connecting the dots in a way that's really helped Away grow thoughtfully.
The best career advice I have ever received is…
JR: Hire slow, fire fast. Hiring quality people has been a priority for Away since day one and continues to motivate us as we grow. We've worked really hard to build a team of people who are passionate, ambitious, team-oriented and incredibly good at what they do. We'd rather have a few openings and take time to hire the right people than end up with someone who wasn't a great fit for our team or their role.
Our aha moment happened…
SK: After Jen's suitcase broke at an airport while she was traveling, she asked some of her most well-traveled friends for recommendations to replace it, and none of them could suggest a good option that they were really excited about.
She called me to vent about it, and we ended up talking for hours. At the time, I was at Columbia University getting my MBA, and we immediately had the idea that the luggage industry was in need of a shake-up. With our combined prior experience in the direct-to-consumer world, it seemed like a no-brainer to look into it.
Related: My Way: 11 Things That Fuel My Ambition
This article originally appeared in the January 2018 issue of SUCCESS magazine.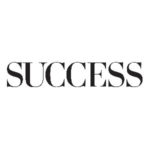 SUCCESS is your guide for personal and professional development through inspiration, motivation and training.