Letters to the Editor: October 2012
The Bad Boy of Business Wants You to Be Good
I like the well-done cover article about Richard Branson and the Reporter's Notebook bonus feature on your website, although I wish the notebook would have been a bit longer. I also liked what Richard Branson has accomplished and how he still retains a sense of humor. The photos make him look as if he had a good time.
Anna Rounseville
Via email
I embrace the passion of Sir Richard Branson and wish I worked for his team.
Michael Begala
Carmel, Ind.
Positive thinking is always a plus for acquiring wealth, but there are other things you need to reach to get to the level of Richard Branson or other financially successful people such as Warren Buffett, Steve Jobs, Bill Gates and Oprah Winfrey. You also need luck and the right timing. If you don't have those two factors, you're out of the game!
Dao Alderman
Tampa, Fla.
Branson is an inspiration to me, and one of my role models for my businesses. Fun, good and irreverent!
Optimize Your Life
Via Facebook
Help Wanted in Poland
I have been subscribing to SUCCESS for over a year now, and I love the articles and all the work that you guys put into making it such an awesome, encouraging and uplifting read. I am South African and appreciate the stories of entrepreneurs because the market in the United States and South Africa are similar.
I moved to Poland recently, and the business environment here is a world apart from South Africa's or the USA's. So it would be great to read articles of successful European entrepreneurs who have overcome the obstacles and challenges that former communist economies present. Many of us get overwhelmed by the deliberate oppression of a free-market economy.
Donald Robson
Cewice, Poland
Criticism for Gandhi Article
Your July
Profiles in Greatness
article on the late Indian Prime Minister Indira Gandhi contains inaccuracies about her 1984 attack on the Siri Harmandir Sahib (The Golden Temple) in Amritsar, India. The article listed "at least 600" casualties, but there really were thousands. And there is so much more to this tragic story, much of it available through an abundance of independent research, than was presented in the SUCCESS article.
To learn about this event and Gandhi's part in it, see the 2005 docudrama Amu, made by graduates of Columbia University in New York City. It shows what happened in the aftermath of her actions of June 1984. In particular, I suggest that the special features segment of the film be watched because it will answer many questions.
Sathanuman Khalsa
Troutdale, Ore.
Editor's note: The number of deaths resulting from the attack on the Golden Temple is a controversial statistic. Indian police estimate that about 600 people died; other sources say the true figure is several thousand.
Still Smiling over the Happiness Issue
The June issue about happiness was just G-R-E-A-T! After reading it one can only smile, have joy and enjoy life. The CD with the inserts from Deepak Chopra and Jim Rohn was definitely a terrific bonus. Congratulations!
Hju-Ammaei-Y.
Madrid, Spain
I just wanted to say thank you to everyone who had a hand in putting together your June issue. This has been one of your best issues to date, and I wanted to share the marked change it made to my life.
I took your "Are You Satisfied?" test in early May and was appalled at my measly 23 score. I pride myself on trying to be grateful for what I have, living each day to its fullest and sharing my gifts with the world. Yet I wasn't happy. My displeasure with my own success and constant comparison to others were the reasons my happiness was being kept at arm's length for so long. After some soul searching, I realized much of what you wrote about and much of what many of your experts talk about was not being practiced by yours truly. I was, and have been, constantly seeking more, more, more as the answer to my dissatisfaction in life.
For a month I followed the suggestions of the articles in the issue (along with a rededication to the belief that life is a product of your predominant thoughts). I took the test again and am pleased to report a high score of 32, proving it's never too late to change.
Jeff Michaels
Boston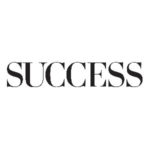 SUCCESS is your guide for personal and professional development through inspiration, motivation and training.