Go Behind the Scenes at SUCCESS' Shark Tank Cover Shoot
The term shark, when used in business, usually makes you get out of the water quickly. The Shark Tank franchise does just the opposite, drawing us in to deeply identify with those brave enough to lay it all on the line in front of millions of people for the chance to live their dreams.
Our mission at SUCCESS is to support people who make this choice as well as provide them with the motivation, inspiration and tools they need to jump into the tumultuous waters of entrepreneurship. It is a mission we take very seriously, and we are constantly reviewing our products to make sure we give you this information in the freshest, boldest, most pleasing manner every issue.
Over the past year, you might have received a survey asking what you like about SUCCESS and what you would change if you could. These surveys are vital to a media brand because they are the most direct way to understand you, the reader. We've heard you! The October 2015 issue (on newsstands Sept. 8) launches a new look and feel that is designed to make the magazine easier to read and more durable, allowing you to use every issue as an evergreen guide for your journey to success.
The new design features a larger size, which offers more space for our content, plus more opportunity for art and graphics that illustrate the message.
We have upgraded our paper stock on the cover and inside the magazine, shifting to a heavier weight to ensure the magazine will last longer, reinforcing its timeless feel. In an age when many magazines are cutting quality, we are investing in SUCCESS to give you the best possible product every month.
We are debuting the newly redesigned magazine with the Sharks (all six of them!) gracing the cover—and you can go behind the scenes of the SUCCESS photo shoot to see them in action here:
We believe that SUCCESS is your magazine. So it is important that we receive your feedback on our new design. Email us at [email protected] or comment here with your feedback and suggestions.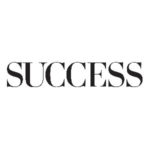 SUCCESS is your guide for personal and professional development through inspiration, motivation and training.