A Conversation with Danny Boyle
Photo by K. Shelby Skrhak/SUCCESS
England-born director Danny Boyle, best known for Academy Award-winning film Slumdog Millionaire, Trainspotting and The Beach, smiles while watching a scene from Ewan McGregor's first collaboration with Boyle, a film called Shallow Grave.
Boyle told a 2013 South by Southwest Film audience, "Slumdog allowed us to make [the film] 127 Hours with James Franco. I couldn't tell a movie studio that I wanted to make a film about a guy stuck on his own, and the climax is that he cuts his arm off," Boyle said of the 2010 film based on a novel about a climber who became trapped under a boulder and resorted to desperate measures to free himself. "So I lied and told them it was an action movie. Except the action hero can't move."
In 2012, Boyle was artistic director for "Isle of Wonder," the opening ceremony for the 2012 Summer Olympic Games in London.
View photos from SUCCESS' coverage of South by Southwest, including more ideas for small business owners and entrepreneurs, at Facebook.com/SUCCESSmagazine.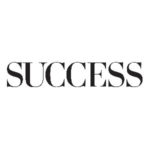 SUCCESS is your guide for personal and professional development through inspiration, motivation and training.