9 Things That Inspire Denver Broncos Cornerback Chris Harris Jr.
Who?
Chris Harris Jr., three-time all-pro cornerback
Where?
Denver
What?
Undrafted out of college in 2011, Harris signed with the Broncos and became an immediate standout on the field (helping the team to a Super Bowl win in 2016) and in the community. In 2012, he and his wife Leah started the Chris Harris Jr. Foundation, an organization that mentors and helps children rise above obstacles and strive for greatness. The organization has partnered with groups such as Big Brothers Big Sisters, Boys and Girls Clubs, Salvation Army, and Denver Children's Home to help youth from all walks of life.
COURTESY OF DENVER BRONCOS © GABRIEL CHRISTUS
In my downtime I like to…
Play PS4 or watch movies. I'll take my wife on a date to the movie theater, or if there's a new kids movie out, I'll take my little girls. The last we went to see was The Incredibles 2. They loved that one. I always remember the times my dad took me to the movies growing up, and so I want to keep doing it with the girls.
My favorite quote is…
"If you're not first you're last." That's from a movie, too: Talladega Nights with Will Ferrell.
I smile every time I…
See my girls. I've got three of them under the age of 4. It's great. I'm like Superman to them. They want a lot of attention! It's fun. It's a big responsibility, but being a parent is fun.
The book I recommend most often is…
The Bible. My faith is a part of my life every day. I also meditate and just try to go every day and learn as much as possible and keep my relationship with Jesus as strong as possible.
When it comes to meditating…
The first thing I do when I come home is find just 10 minutes by myself to get a breather. It's just about taking some time to think about the day, and things I can do to improve for the next day.
I fight against self-doubt with…
Positive thinking and affirmations. It's as simple as thinking back on accomplishments I've had in the past or plays I've made on the field—if I've done it before, I can do it again. When you play cornerback, you've got to try to have a clear mind, forget bad plays and build yourself up mentally.
The best life-hack I know is…
The Venmo app. It lets you make payments to friends and family simple.
In 2019, my focus is…
To continue to be the best player, father and husband I can be. On the playing field, I try to attack every day and play to the best of my ability so I can give my family everything they want. When you have kids, your urgency level goes up in everything you do.
My personal "aha" moment came when I…
Got into my second year in the NFL and I earned my first start against the San Diego Chargers. I realized I had the potential to have a long, successful career.
This article originally appeared in the Spring 2019 issue of SUCCESS magazine.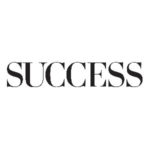 SUCCESS is your guide for personal and professional development through inspiration, motivation and training.