Top of Mind: 5 Things I Wish I Knew When I Was Younger
There are many things I would advise my younger self, but the most important thing would be to value my inherent strengths. It took me years to recognize that the things that make me sparkle are very different from most people's traits, and that it is OK. It's so easy to dismiss our core competencies and look at them like they are nothing, but those are the very things that will allow us to soar.
—Joanna Schneier, CEO of Cognotion
When I started my first company, I felt the need to act on any opportunity. Without hesitation I would take on any project that came my way. I tried to boil the ocean. But that can't be done. As a result, I poorly executed a lot of projects early in my career. I would tell my younger self to focus on delivering a win for clients before I offered to take on another project with them.
—Jacob Garlick, CEO of RevSite.com
Seek uncertainty. When I was younger, it was difficult to make decisions in the face of the unknown, and I'd be tempted by the path where I could see the clearest into the future. Looking back, the most significant and powerful turning points in my career have come from choosing the path with greatest uncertainty because it was usually the opportunity that prompted me to discover and define new possibilities for myself.
—Sarah Nahm, CEO of Lever
Enjoy the journey. My younger self was so goal oriented that I was always trying to get to the next place, without enjoying where I currently was.
—Nancy Simpkins, Ph.D., medical consultant to the state of New Jersey
I started my first company about 16 years ago, and over the years, I realized that sometimes things go terribly wrong. But what separates the people who belong at a startup from the people that don't is the instinct to show up to practice the day after a big loss, and just start working. It's the people that only get more motivated by adversity, that relish the opportunity to drive the ball 99 yards down the field in under two minutes when the pressure is on. So I realized much later that sometimes when everything looks hopeless, you gotta just show up and get to work.
—Bob Buch, CEO of Socialwire
Life lessons are hidden everywhere. Check out 6 of "Mom's" that'll inspire and guide you.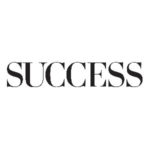 SUCCESS is your guide for personal and professional development through inspiration, motivation and training.