Quincy Jones and David Foster are the best of the best in music. Quincy Jones is the music man. David Foster is the hit
king.
Quincy Jones is a composer, artist, conductor, arranger, producer and record company executive. David Foster is considered
the No. 1 music producer in the country. He's a keyboardist, a session musician and is best known for his unique ability
to discover new talent.
Both have worked with all the greats. Quincy Jones: Ray Charles, Count Basie, Duke Ellington, Ella Fitzgerald, Frank Sinatra
and Michael Jackson. David Foster: Celine Dion, Whitney Houston, Andrea Bocelli and Michael Buble.
So what can you learn from these two musical geniuses?
Quincy Jones: Immerse yourself in a field you love. "I was inspired by a lot of people when I was young—every
band that came through town, to the theater, or the dance hall. I was at every dance, every night club, listened to every
band that came through, because in those days we didn't have MTV, we didn't have television."
David Foster: Use your gifts. "Having perfect pitch is not a key to success, but it is an indicator
that you maybe should
be doing music. Fortunately, I loved it so much it's all I wanted to do."
Quincy Jones: Give back. "Imagine what a harmonious world it could be if every single person, both
young and old, shared
a little of what he is good at doing."
David Foster: Don't settle for good. Go for greatness. "It's so easy to be good. I can
be good any day of
the week." But if he was a shoe salesman instead of a music producer, Foster says, "I would be the best shoe salesman
in the country."
Quincy Jones: Don't limit yourself to one area of expertise. "Expand, grow and explore."
David Foster: Believe in yourself. "In my heart I knew I could produce successfully, and I couldn't
do that if
I kept working as a studio musician. So I did what I had to do: I believed in myself almost to a point of madness."
Quincy Jones: Let obstacles become your inspiration. "Train yourself to see barriers as exciting challenges.
The harder
the problem, the more rewarding the achievement."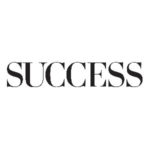 SUCCESS is your guide for personal and professional development through inspiration, motivation and training.