My Way: 14 Things That Help Me Live a Beautiful Life
Who?
Celia Fushille, artistic director of Smuin
Where?
San Francisco
What?
Fushille was a founding member of Smuin, San Francisco's premier contemporary American ballet company. She was also the ballet's principal dancer for more than 12 years. In 25 years as a dancer, Fushille performed on stages across the U.S. and Europe. Fushille became artistic director of the ballet in 2007 and also served as executive director from 2008 to 2014.
I recommend reading…
Americanah by Chimamanda Ngozi Adichie. It opened my eyes to a deeper understanding of race issues and the importance of identity. You can't truly understand discrimination—whether it's race, color or gender—without being in the skin of that person.
I'm currently Netflixing…
House of Cards and Orange Is the New Black. I'm a big fan of Jeff Beal, the composer of House of Cards. He created the music for one of our ballets in 2016.
My favorite feel-good movie is…
The Sound of Music. It takes me back to my youth. I remember watching it with my father. I loved the songs, which I also grew up playing on the piano.
One thing that will always make me happy is…
A bouquet of fresh flowers.
Something everyone should try at least once is…
Dancing. Not everyone is a dancer, but everyone should dance.
I'm a fan of…
American opera singer Renée Fleming and Adele.
Art has the ability to…
Touch the soul and unify people.
My secret weapon is…
My smile. I think a smile can put people at ease and make them feel welcome.
I handle disappointments by…
Stepping away to reflect on the matter. I'm not someone who is usually ready to talk immediately. I need to think about it and assess what happened and my options.
Growing up, I looked up to…
My mother. She is an amazing woman—the mother of seven kids. She is selfless and always giving. I always appreciate people who see a need and take care of it instead of saying, "That's not my job."
The best career advice I ever received is…
To let things roll off of your back—to develop a thicker skin and not let things people say about you bother you.

FUSHILLE PERFORMING WITH EASTON SMITH AND ALONE AS THE BLUE ANGEL.
My aha moment was…
My first major injury [a knee injury that required surgery]. I couldn't work for a while, so I started to work downtown. It was a revelation and a real comfort to know early on that I could support myself and survive outside of the dance world.
As an artistic director, I've learned to…
Manage from a perspective of respect and not fear. I have encountered directors or bosses who instilled a sense of fear in you. We've tried to establish a culture of respect in the studio, and I think we get the best work out of people.
One of my big goals is to…
Maintain my physical strengths to be able to age as gracefully as possible.
Related: My Way: 12 Things That Motivate Me to Go After My Dreams
This article originally appeared in the October 2017 issue of SUCCESS magazine.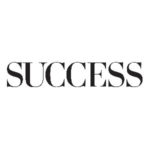 SUCCESS is your guide for personal and professional development through inspiration, motivation and training.