My Way: 12 Reasons I'm Loving Life
Who?
Cassey Ho, CEO of oGorgeous
Where?
Los Angeles
What?
Ho is the creator of Blogilates, a female fitness YouTube channel with more than 300 million views and 3 million subscribers. Her unique exercise format, POP Pilates, started on YouTube in 2009 and today it's an internationally recognized instructor certification program. Her business oGorgeous sells fitness apparel, equipment and accessories.
What things do you never leave the house without?
My phone and my water bottle. I do work from my phone when I am not at my desktop, so my phone is life. My water bottle is essential because staying hydrated keeps me energized.
What's the last book you've read that inspired you?
Drive: The Surprising Truth About What Motivates Us by Daniel H. Pink. As oGorgeous expands and as we hire more employees, I'm learning daily how to keep the team motivated, excited and challenged while building company culture. This is all so new to me. This book is awesome because it goes into the science behind what motivates human beings to reach their best potential, and it's not what you think.
What's your favorite quote?
"Great things never come out of comfort zones."
Stepping out of your safety zone will force you to figure out how to get stronger.
What's your favorite feel-good movie?
The Social Network. I love movies about entrepreneurship, hardship and success.
What's your secret weapon?
My drive. When I want something done, I will do whatever it takes to make it happen.
How do you handle disappointments?
I accept them and then move on. Life isn't always going to be easy or fair, and that's just reality. I make peace with disappointments and then find a way to fix them or make something better come out of it.
What do you to do relax?
Cooking is my therapy. I love being in the kitchen, putting on some good music and creating a healthy recipe. Getting creative in the kitchen relaxes me, and enjoying the food is a bonus.
Who or what inspires you?
My POPsters [what she calls her fans]. They are my everything and the reason why Blogilates even exists. Every day, I am thankful and grateful for them.
Growing up, who was your role model? Who is your role model today?
I've never had just one role model. I look up to different people for different reasons and different inspirations. But the one thing they all have in common is that they are all here to serve and to give. I've found that living life with a giving attitude has presented me with some of the coolest experiences and opportunities.
What's the most important lesson you've learned?
Trust myself and follow my heart. I've learned that I don't have to fit into society's standards (or even my family's standards) of who or what I should be. Instead I stay true to myself. Anything is possible as long as you follow what feels right and stay away from what feels wrong. It only takes one person to direct your life and that is you.
Which characteristic do you value the most?
Passion. When someone is passionate about something, I can tell. I can see it in the way they speak and the way they work. I value passion so much because it's what drives my vision and my company.
What are your top three tips to stay in shape?
1. Find a workout you love. Fitness shouldn't be boring or something you hate doing.
2. Drink water! Water does everything from fueling your internal organs to brightening your skin and helping you curb cravings.
3. Stop dieting. Instead find a balanced diet that works for you. Depriving yourself of certain foods will only lead to guilt and bad habits with food.
Related: 13 Ways to Take Care of Yourself Every Day
This article originally appeared in the July 2016 issue of SUCCESS magazine.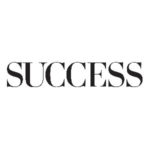 SUCCESS is your guide for personal and professional development through inspiration, motivation and training.