If you think you've hit a wall, in business or in life, and can't come back from it, think again. Dive into these stories of the impossible—individuals who have flown over life's hurdles to find their own success—for a dose of motivation.
Be Better
In 1993, 18-year-old Warrick Dunn lost his mother, a Baton Rouge police officer, in a botched robbery attempt. Battling overwhelming grief, he pushed forward to study at and play for Florida State, and was later drafted by the Tampa Bay Buccaneers. Through football and other successes, though, the murder still weighed heavily upon him.
So on October 23, 2007, Dunn faced the man who turned his family's life upside down. His mother once said to her children, "You can be bitter or you can be better." That day, he chose to be better—he forgave.
Read Dunn's full story, how he overcame his biggest challenge off the football field.
Life Goes On
Howie Truong simply told himself to "Get going." Yes, life keeps going, but for Truong, that meant overcoming the unthinkable. While fleeing postwar Vietnam, savage pirates attacked his boat, kidnapped his baby son and later threw his wife overboard.
This is a story of resilience. Experts say it's something you can learn, something that will help you deal with crisis, and these are personal stories to prove it.
Learn from Truong and others who have broken through the walls of serious setbacks—we can all "bounce back."
'Honor Hardship'
At the age of 28, and after having already lost sight in one eye, John Tue Nguyen went completely blind. But he always had a vision, and that remained true—he went on to create a travel company from scratch by "finding the positive side to everything."
Nguyen's key to success? "Honor hardship." There are opportunities hiding everywhere.
This blind visionary saw an opening others couldn't. Read the complete story to discover how he reached success despite his personal obstacles.
Miracle Man
A devastating plane crash in 1981 put Morris Goodman in the emergency room for a broken neck and crushed spinal cord, jaw and larynx. His family was told he might not make it through the night—and when he did, they were told he wouldn't have movement from the neck down and chances of speech were unlikely.
Goodman refused to accept that grim fate, and eight months later, he walked out of the hospital to become a motivational speaker.
Find out how Goodman beat the odds and learn from the miracle man himself the secrets to a fulfilling life.
Visit SUCCESS.com for even more stories of people making the impossible possible.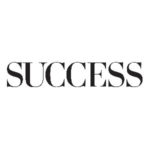 SUCCESS is your guide for personal and professional development through inspiration, motivation and training.