Discover How Uber Co-Founder and CEO Travis Kalanick Leveraged His Tech Past to Launch a Company That Transformed How We Travel In the March Issue of SUCCESS
DALLAS — Travis Kalanick, the CEO of Uber, didn't initially want to helm the tech company now valued at $70 billion. He wasn't afraid, but rather weary because of previous failed businesses. But seven months after the company launched, he bit the bullet and took the reigns. Ever since, he's been a fearless leader—one who has overcome numerous setbacks and solved a myriad challenging problems.
The idea began as a simple one: a ridesharing service that benefitted both the driver and the rider and offered a unique alternative to cabs and limousines. It has since grown into a transportation empire that spans six continents and accounts for 85 percent of the app-based ride-hailing market in the U.S.
Kalanick is also a force to be reckoned with in the world of funding: He collected $1.25 million in the first round of funding for Uber in 2010, followed by $48 million in 2011, $258 million in 2013, $2.6 billion in 2014, $3.7 billion in 2015 and $4.8 billion in 2016.
In the cover story of SUCCESS Magazine's March issue, Contributing Editor Chris Raymond dives into Kalanick's past to discover the secrets to Uber's success.
"Go after the hard things, because it's there you'll create lasting value, enduring value, magic that can be sustained."
—Travis Kalanick, March 2017 issue of SUCCESS
Also Inside This Issue
SUCCESS Magazine's March issue is all about confidence: How to be more confident, why confidence matters, and a look at some of the most confident people out there. Being confident is a key component of success, and we wanted to provide you with the tools and tips to grow and sustain your own confidence.
For full stories, pick up the March issue, on newsstands February 14. For more information about SUCCESS Magazine and additional personal development content, visit www.success.com.
About SUCCESS
SUCCESS magazine is a national newsstand publication and your guide to personal and professional development through inspiration, motivation and training. SUCCESS inspires 2 million readers a month, and has a total social reach of 5 million fans. SUCCESS magazine was founded in 1897 by influential thinker Orison Swett Marden. It is owned by Dallas-based SUCCESS Partners founded by Stuart Johnson.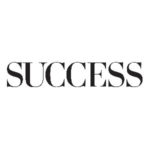 SUCCESS is your guide for personal and professional development through inspiration, motivation and training.