Chance the Rapper Pulls Double Duty as an Independent Musician and Community Advocate
In this video segment from SUCCESS magazine's July/August 2023 cover interview with Chance the Rapper (full name Chancelor Johnathan Bennett), the multi-Grammy-winning musician shares the perks of being an independent artist, his advice for budding entrepreneurs and how he's making an impact on communities across the globe.
Creating Chance the Rapper
A big part of Chance's allure—and perhaps a main driver for his continued success—is his commitment to being an independent artist. He doesn't have a record label, and even in the early aughts of his career, he opted to make a name for himself through old-fashioned marketing: handing out mixtapes with his recordings for free and encouraging feedback from anyone willing to listen.
This grassroots approach and his determination ultimately won, and Chance quickly ascended the music empire ladder. In between coveted partnerships with brands like Red Bull, Doritos and H&M, and collaborations with Kanye West, Justin Bieber and other household names, Chance hasn't forgotten the community that helped him get there. Now he's returning the favor.
Community Commitment
"There are times when you have to insert yourself in the situation to create the change you want to see," he says in his cover story. The rapper has done just that, pouring back into his Chicago hometown with projects like Warmest Winter, a partnership with a Detroit-based nonprofit that provided 1,000 coats to keep homeless residents of Chicago warm. He also speaks to SUCCESS about his newest vision: the Black Star Line Festival, a free event geared toward providing a place for global members of the Black community to gather, inspire and commune safely.
When you strip away the spotlight and the awards, Chance is unchanged. Because, at the end of the day, his work is deeper than just making music—it's always been about the art of connection.
Photo by Nick Onken.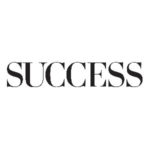 SUCCESS is your guide for personal and professional development through inspiration, motivation and training.