Ask the SUCCESS Editors: What's the Best Gift You've Ever Given?
Hello, December! …we said in an editorial meeting almost three weeks ago. It happens every year, that the busiest time here in the newsroom is the busiest time for nearly everything else going on during this holiday season. About as fast as Santa's reindeer can fly, the deadline for holiday shopping approaches. But we're here to help.
Because you can't give him socks every year, we want to share with you a little inspiration for gifts full of heart. (Note: not one idea mentions socks, although we have two gentlemen that are partial to brightly colored socks.) We asked our staff, "What's the best gift you've ever given?" So, here we go…
The best gift I've ever given was to my mother, when I was 7 years old. I saw an ad of a woman unwinding at a spa and wanted to treat my hardworking mom to the same experience. I used our stash of hotel-sized shower gel bottles to draw a warm bubble bath and set my clock radio in her bathroom to play soft music. I splurged on scented candles, enlisted my brother's help in lighting them (I wasn't allowed to use matches!) and offered to wash the dishes while she relaxed. Since then I've purchased many lavish gifts for my mother, but the DIY spa is one of her most cherished stories.
—Jennifer Chang, associate editor
When my girlfriend's father passed away, he left behind letters to his daughters and his wife. In his letter to my girlfriend, he wrote five life lessons to remember. I made a painting for her that included a quote—my favorite lesson from her father's letter: "Never be a fly on the wall. Don't stand by while others change the world. Be the one that makes the change." The painting meant a lot to her, but giving it to her meant even more to me.
—Jesus Jimenez, social media coordinator
I hired a chef to teach my foodie husband about preparing Indian cuisine. At first he thought it was a strange gift, but after the session, he animatedly told me all about the various curries, and he served up a dinner for four (us and another couple). My husband is a free-spending guy, so if he wants something, he buys it. That makes gifts challenging. But this one was special: It was a complete surprise. I really put thought and effort into it (not another Amazon gift card!), and it was personal (he loves spicy Indian food). One thing that's also great about giving someone the gift of knowledge is that it's lasting and not a thing to sit around and take up space.
—Mary Vinnedge, managing editor
My girlfriend always says that her favorite presents are "experiences," and she's getting just that. My girlfriend works really hard and almost never gets to take a day off, so I bought her a plane ticket in January to spend a long weekend with her best friend who lives four states over and whom she rarely gets to see. It's a completely unexpected surprise—so unlike anything I've done before—and is sure to create memories that will last a lifetime. Shhh, don't tell her!
—Josh Ellis, features editor
I think the best gift I've ever given was a small quilt to my niece on her first Christmas. I enjoyed picking out the fabric and piecing the quilt together with my mom (who taught me to sew when I was little). It took me a couple of months to complete, but it was well worth it. The quilt was a labor of love—and much better than something I could have bought in a store.
—Amy McMurry, senior art director
Photo books make my "best" list for gifts. I've given my boyfriend a photo book about our charmed first year of dating (complete with his favorite lyrics, quotes sprinkled through the pages), my mom a collection of favorite family snapshots for Mother's Day, and my twin sister a highlight reel of her nursing trip to Ghana, just because. And unlike digital copies or Facebook albums, these can live on coffee tables or bookshelves as physical reminders of the good times.
—Jessica Krampe, editorial content specialist
The best gift I have ever given was to my younger sister, Sarah. There are 13 years between us, so when I left for college, she was only 6 years old. She didn't fully understand why I was leaving, or if I would be coming back. To help make the transition easier for her, I took her to Build-a-Bear, and together we built a bear. Sweetheart, as the bear become known, was her best friend, confidant and reminder of how much I loved her no matter how far away I was.
—Mariana Lenox, digital asset production manager
Ferrous here, Lisa's orange tabby kitten. She left the laptop open so I thought I'd weigh in. If you were rescued from a commuter rail parking lot like me, just about everything that comes after that is a gift: topsoil, an open mayonnaise jar, two old and slow female cats, a glass-enclosed shower stall, a chi-wienie dog (no, scratch that!), the dog's leash while attached to him. But nothing compares to the best gift of all time: a Christmas tree!
—Lisa Ocker, editor
What's the best gift you've ever given?
Happy holidays!
Your SUCCESS Family
Have a techie in your life? Check out 11 fun, forward-designed items that'll make great gifts this holiday.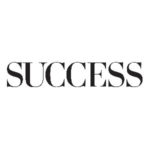 SUCCESS is your guide for personal and professional development through inspiration, motivation and training.