7 Things That Motivate Heavy Sound Labs' Jason Geter
Who?
Jason Geter, founder and CEO of Heavy Sound Labs, a music incubator
Where?
Atlanta
What?
It's hard to argue with Jason Geter's eye for talent. After dropping out of college to pursue his music ambitions, he signed and began managing an 18-year-old rapper named T.I., with whom he co-founded Grand Hustle Records while simultaneously interning at an Atlanta studio. Geter later discovered and signed Travis Scott, who at the time only had 500 YouTube views. With Heavy Sound Labs, his goal is nothing less than to redefine the traditional record label. It was founded for emerging artists and creative collaborators looking to start careers in music without the gatekeeping barriers.
I am energized by…
good positive energy; it's a must. That includes waking up healthy, feeling blessed and seeing my loved ones first thing in the morning. I thrive off of the energy of the people around me because it's contagious, which motivates and inspires me.
The future of the music business is…
definitely global. Everything happens in real time and we have so many different subdivisions within the music business; the U.S., U.K., Africa, Asia, India. And the future heavily weighs on creating that global landscape in real time. It's also about benefiting financially with artists going into the homes of their fans all around the world…. When you think about the music business today, it's run by tech companies heavily promoting and socializing music be it Spotify, YouTube, Apple, TikTok, Triller or Instagram.
My best advice for handling change is…
to lean into it. When you see things changing I think you should figure it out instead of fighting it. I'd also advise you to research, study and understand what's happening.
My favorite quote is…
design your life. I read that somewhere and it made it all the sense in the world to me. That's what America is all about…. You can make your way through the maze; climb the ladder. We're all born with certain circumstances, but we have to control, empower and position ourselves to become the person we'd like to really be.
In 10 years I hope to…
be an established investor. I want to have made some great investments and helped some great Black founders build some influential companies that can ultimately recycle money back into our community.
When self-doubt creeps in…
I handle it by giving myself pep talks. That's something that I do and believe in. I've always considered myself a champion and just because you're a champion doesn't mean you win every game. That's something that I always remind myself of when I feel like I'm not having such a great day. I dig within and I remind myself that I'm a champion, therefore I can win this game in the last 6 seconds, just like Michael Jordan.
I define success as…
being in a position where you have financial freedom. You don't have to do things for money. You can pick and choose what you want to do because you can afford to. I look at money as a tool and when you can help others, especially as an African-American man, that's a major victory. My mother told me that, if you're a parent, your biggest investment in life is raising your children and for them to be contributing members of society. I also define success as happiness and being able to be proud of what you're doing.
---
Do you need weekly inspiration, success tips and self-help resources? Click here to sign up to join our weekly newsletter to help you achieve all your goals!
---
This article originally appeared in the November/December 2020 issue of SUCCESS magazine.
Photo courtesy of Jason Geter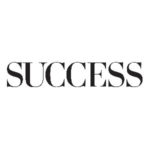 SUCCESS is your guide for personal and professional development through inspiration, motivation and training.