3 Tips for Cultivating Mentor Relationships
When I founded a manufacturing tech company 15 years ago, I was entrenched in a male-dominated field. I was a female entrepreneur launching a Silicon Valley company that specializes in onshore contract manufacturing for medical, biotech and other industries. Back then, I benefited firsthand from the assistance of mentors throughout my career who were generous with their time and eager to share their expertise.
These days, as I consider the challenges that women entrepreneurs face, I'm reminded again how much impact mentors had on my ability to overcome obstacles, and how I can now mentor a younger group of female entrepreneurs.
A mentor's influence on your success can be tremendous, regardless of your industry, where you're starting out, and where you're looking to go.
These are three strategies I've found successful in cultivating mentor relationships.
1. Make cultivating relationships with your mentors a top priority. Sure, cultivating relationships for future sales and potential clients is essential. But if you're looking to make the most of your networking efforts, it's a good idea to spend as much time building key relationships with mentors as you do with potential clients. I say mentors, plural, because from my experience, there's an advantage to having a variety of mentoring relationships, since each will bring a unique perspective to different challenges you face.
2. Adopt a beginner's mind. Centuries ago, anyone seeking to enter a trade was required to go through years of training, moving through the ranks of apprentice and journeyman before ever hoping to qualify as a master craftsman. If you will adopt this same beginner's mindset that allows for the influence and expertise of others to shape your career path, you'll create the space needed to realize the value that your mentor/mentee relationships provide as you learn from their setbacks and model their successes.
3. Be politely persistent. Identifying potential mentors may prove to be a lot easier than actually getting on their calendars. Here's where it pays to be patient yet politely persistent. In my own experience, I've found that it takes, on average, five points of contact (emails, phone calls, etc.) before I get on a busy person's calendar, so I'm very thoughtful in both how I approach someone, and how often. In seeking out those crucial mentor relationships, be clear when you ask for what you want, give them time to respond, and expect to reach out multiple times before you get an answer. Do so, and the relationships that follow will be well worth it.
As you nurture relationships with those who will help you excel, remember that it's good to be generous with your time, too. After all, what goes around comes around. Make it a point to pay it forward by helping others cultivate relationships to achieve their goals. Do so, and you can't help but make more connections of your own that will light up the path to continued success and fuel your journey as you go.
Check out 6 pieces of advice on making the most of mentorship—a vital ingredient in professional success.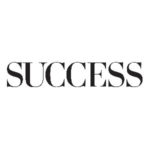 SUCCESS is your guide for personal and professional development through inspiration, motivation and training.