A Q&A With the Founders of Tone It Up: Life Lessons and Advice for Success
Who?
Katrina Scott and Karena Dawn / founders of Tone It Up
Where?
Southern California
What?
Where would two fitness enthusiasts be on a Friday night but at the gym? That's where the co-founders of Tone It Up first met and became friends. Soon "after a few coffee and yoga dates," they realized their shared dream of a fitness lifestyle brand and community for their fellow women. Today Tone It Up offers daily workouts through its app, as well as a nutrition plan, plus products for beauty, health and fitness.
The most important lesson we've learned in life is…
You've heard the term "fake it until you make it," but one of the most important lessons we've learned is to always exude authenticity in the service of others to command true staying power. There is no faking the real thing.
Outside of our professional relationship, we maintain a friendship by…
As Tone It Up has scaled up and our personal lives have evolved over the last decade, we've been able to maintain our friendship by setting healthy boundaries and clearly defining where the workplace ends and the friend zone begins. When we're together outside of the office, the last thing we're talking about over a nice glass of wine is our workday.
Our No. 1 app recommendation for businesspeople is…
Shameless plug! The Tone It Up app is our top recommendation for high performing businesspeople. To be successful and (stay sane), you've got to get your mind right, and find true balance between work life, home life and a healthy lifestyle.
The best advice we ever got was…
"Trust, but verify." In the beginning, like any entrepreneur, we each wore dozens of hats at Tone It Up. As the company grew and we began hiring amazing team members and working with outside partners and agencies, we had to give up certain responsibilities and delegate workloads that weren't necessarily our strengths. It takes a lot of trust to hand over certain elements of "your baby," and there's absolutely nothing wrong with checking in as early and often as you please.
We maintain focus by…
Always reverting back to our brand DNA: to a time when it was the two of us sitting in our apartment asking each other about our passion, purpose and promise. Answering these simple questions can re-center you immediately.
Our "aha" moment came when…
We realized that our community members were organically organizing and forming their own Tone It Up meet-ups without us! We had followed our hearts from the beginning, and this was proof that our hard work was paying off and impacting millions of women's lives positively.
We define success as…
Being able to live freely, feel fulfilled through serving others, and spend quality time with loved ones.


This article originally appeared in the July/August 2020 issue of SUCCESS magazine.
Photo courtesy of Tone It Up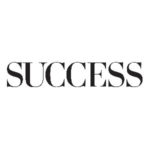 SUCCESS is your guide for personal and professional development through inspiration, motivation and training.