SUCCESS Foundation: Why the Second Step Is Just as Important
Lucky breaks happen. But not in the way you think. They are slowly grown, like a crop: planted, cultivated and ultimately harvested. Success is not a random accident. Life is not a lottery.
People don't start taking small steps toward their goals because they're waiting for a lucky break. Perhaps you know someone who's hoping or who once hoped to become a professional athlete. The truth, of course, is that very few people have the talent to become superstars in sports, where the odds of making it big are a million to one. And when the lucky break didn't turn out the way they hoped, they give up. They become victims of the lucky break myth.
Related: Overnight Success Is a Myth: Here Are 4 Ways to Persist
The first step is key, but the second step is just as important.
Many people look up to the wrong role models for success. We make heroes out of people in sports and entertainment, but we don't see the years of hard work behind their success. Stephen Curry didn't become Stephen Curry overnight. Any great athlete pays the price: hours and hours of practice with no one watching or cheering. Success in anything doesn't happen overnight or out of thin air. It requires hundreds of small steps taken every day. This is the lesson adapted from the text of SUCCESS for Teens: Real Teens Talk about Using the Slight Edge, the cornerstone material of SUCCESS for Teens, a personal-development curriculum by the SUCCESS Foundation.
The first step is key, but the second step is just as important. People often take the first step, don't see any immediate success and quit. How many people have the strength and courage to take the second step?
Related: 11 Ways to Stay Motivated From People Who Refused to Quit
When you were an infant, you made your way around by crawling. Everyone around you was walking, and one day you got it into your little head that maybe you could give walking a try. You let go and took that first, amazing, bold step—and smack! You fell right on your butt. So what did you do? You didn't say to yourself, I hope nobody saw that. You know, maybe I'm not cut out for walking. And crawling isn't so bad.
No. You did what other infants have done throughout time—you got back up and took a second step.
The second step was probably no better than the first. But that second step was where you really started to learn how to walk. It was only a matter of time before you were really walking on your own. Babies instinctively understand the slight edge. We forget it only as we grow up.
Related: Do These 5 Things to (Actually) Stick to Your Goals
To download the SUCCESS for Teens e-book, learn about the program, share your story about it or make a contribution, visit SUCCESSFoundation.org. Leaders, participants and donors can request a profile in SUCCESS by emailing info@SUCCESSFoundation.org.
This article originally appeared in the July 2017 issue of SUCCESS magazine.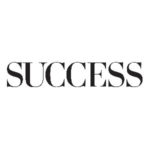 SUCCESS is your guide for personal and professional development through inspiration, motivation and training.