Peter Diamandis, Entrepreneur, Engineer and M.D., Shares How to Live to 150—or Longer—in the July Issue of SUCCESS Magazine
DALLAS—Peter Diamandis is no longer just one of the world's biggest dreamers, he is the world's biggest doer as he takes the lead to crack the genetic code to enhance human life—perhaps even to age 150 or more. Involved in everything from space travel to human longevity, the entrepreneur, engineer and M.D. believes in the power of technology and people's ability to solve any problem they face. As the subject of SUCCESS Magazine's July cover story, Diamandis shares why he believes there isn't a problem that doesn't have a solution, including a longer, healthier lifespan.
In "How to Live to 150," SUCCESS reporter Sam Eifling finds out why the idea of a longer lifespan is not actually ridiculous, but rather completely possible and inevitable.
"People just don't understand the power of exponentials. And we're in a period of time where biological sciences and technologies are growing exponentially. And data science is growing exponentially. And our ability to understand our body and then being able to actually engineer it to be healthier and live longer is happening right now. It's during our lifetimes. The next decade, it's all happening."
—Peter Diamandis tells SUCCESS, July 2016 issue
Diamandis' ambition and unwillingness to give up matches the values of SUCCESS. This month, the one-of-a-kind brand is also welcoming him and his mission in his new role as a SUCCESS Ambassador. The magazine will lean on Diamandis for editorial direction, channeling his vision for what will be most empowering for readers. He will also be featured as a columnist to help readers live a life of abundance and prosperity.
In addition, Grammy Award-winning singer, songwriter, actress and original Destiny's Child member Kelly Rowland is no stranger to fulfilling her destiny. Sharing her belief in sisterhood in "Destiny Fulfilled," she credits her close relationships with her hardworking single mother and the Knowles family as vital to her achievements. Through Rowland's new "docuseries" with BET, Chasing Destiny, she hopes to inspire the current generation to find that same sisterhood as she develops and mentors 15 women to become the next superstar girl group.
Also Inside This Issue
SUCCESS Magazine's July issue is all about unlocking inspiration and improving your imagination to tackle the seemingly impossible tasks. Among other features, it highlights:
Unlocking Your Creativity—Resident positivity columnist Patty Onderko presents a useful guide to help readers understand what makes them "imaginative, innovative and resourceful." As she walks through what it means to be creative and the truth about right brain vs. left brain, Onderko also gives some tips on how to access a special type of creativity.
Post-Traumatic Growth—In this inspiring story of growth and healing, Sophia Dembling recounts the journeys of three "average" people who found themselves facing tragedy, death, heartache and loss. Throughout it all, she shares how they were able to find hope, purpose and a new path to happiness.
Funny or Die—SUCCESS associate editor—and introvert—Jamie Friedlander takes on the challenge to become funny. In a short, panic-inducing six weeks, Friedlander perfects a stand-up routine and delivers laughs with a side of introspection.
The July issue also takes a look at giving back to the community by using your dream advantageously. In "Making a Difference," co-founder and CEO PJ Brice and his company, Cheeky, are going beyond just being a designer disposable tableware company that can add flare to a summer barbecue. For every package sold, Cheeky donates 10 cents to Feeding America, which helps provide one meal to a person living with food insecurity. Brice also shares his two "aha" moments and what's on the horizon for the company.
For full stories, pick up the July issue, on newsstands June 14. For more information about SUCCESS Magazine and additional personal development content, click here.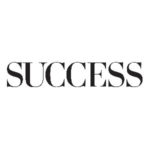 SUCCESS is your guide for personal and professional development through inspiration, motivation and training.