Top of Mind: 5 Ways to Measure Success
Freedom to spend your time how you choose is success. The more successful I am, the more control I have over my time.
—David Lopez, CEO of Dental Fix Rx
I think the real gauge for success should come from within. How does working at your company make you feel? How inspired are the people that work around you? Work may be hard at times, but you should always feel that, at the end of the day, you are making a positive impact within the work community where you find yourself.
—Jessica Matthews, founder and CEO of Uncharted Play
I measure success by the feeling that my team members are painting the same vision as I am, except from different angles. Failures occur from time to time—but we use them as learning tools, and then we continually move forward in the right direction.
—Takanyi Garanganga, professional tennis player
While most measure success purely in terms of financial gain, I measure business success on a balance of work and life. The happier I am in and outside of work, the higher the success rate I feel I have achieved. It's also important for me to share the pathway to that balance with other members of my organization so that they can experience it and help my business grow.
—Jason Leverant, president and COO AtWork Group
Success is building a team of people that are really proud to be working for the business and believe in the opportunity and success of it. Everyone is working toward one focused goal and is excited to achieve results.
—Tapsaya Bali, co-founder and COO of Yoga Smoga
See what the iconic Zig Ziglar says success is—and isn't.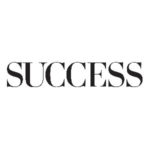 SUCCESS is your guide for personal and professional development through inspiration, motivation and training.