The World's Foremost Leadership Expert Gets Personal With SUCCESS
DALLAS—Renowned leadership expert and New York Times best-selling author John C. Maxwell shares with SUCCESS how and why he isn't slowing down. In an exclusive interview with the publication's new Editor in Chief, Josh Ellis, Maxwell gets personal, sharing with readers everything from his earliest motivations to his attitude toward aging in the December issue, on newsstands November 10.
For the personal moments SUCCESS encountered with Maxwell, Ellis and the photography team met with him in the publication's new headquarters in North Dallas. By the time Maxwell arrived at the office, he had already made final revisions on his newly released book, Intentional Living: Choosing a Life That Matters, given two speeches and shot a television segment, and yet still had the same amount of energy as when he started the day. "The key to staying energized and engaged in work no matter the time of day," he says, "is by looking at work as 'play' and with anticipation."
In Intentional Living: Choosing a Life That Matters (Center Street/Hachette Book Group), Maxwell will show you the way to live a life of significance through intentional acts of service to others. He challenges all to join him on a journey to find intention, seek true purpose in life, to live our best story, make a difference in the world, and tell others about it. Maxwell sweeps readers along through his uniquely personal story of intentional living, sharing his best advice learned throughout his life as a world-renowned leadership expert and coach.
Untold Stories Revealed
While Maxwell is no stranger to writing and publishing books—something he has been doing for the past 40 years—his new book sheds light onto the more personal side of his work. He calls his new book a "legacy project," encompassing a lifetime of lessons learned and lessons taught to millions around the world.
Maxwell shares what he has done well and what he would've done differently on his journey to significance.
While Intentional Living is not a traditional leadership book, it is a self-leadership book that takes readers on a journey to where they have always wanted to go, but never thought they could achieve.
The journey begins prior to even picking up the book, starting with the free 7 Day Experiment, where 10 minutes each day, Maxwell guides participants on how to achieve one small act that will make all the difference. For more information, readers can go to Start7day.com.
"What I really love about Intentional Living is that it causes you to start. It doesn't allow good intentions to stay as merely intentions."
—John C. Maxwell, SUCCESS magazine December 2015 cover story
New Ambassador Relationship
For the past eight years, Maxwell has not only been a columnist for SUCCESS but has also been a friend and one of the publication's biggest supporters. In line with the magazine's goal of continuing to bring added value to its readers, they have embarked on a new relationship with Maxwell in which he will serve in the role of SUCCESS Ambassador. Beginning in 2016, readers will be able to hear him interviewing some of the great thought leaders of today on the SUCCESS CD, see him involved in SUCCESS-sponsored events, and tune in as he serves as a voice for SUCCESS during media opportunities.
The December 2015 issue of SUCCESS magazine, featuring John C. Maxwell, is all about giving back as we approach the holiday season. Inside the issue, readers will find the special section " 'Tis Happier to Give," where science confirms the links between generosity, compassion and happiness through the following articles:
The Power of Generosity
How (and Why) to Give the Perfect Gift
In the article "Math Appeal" by Arden Moore, Danica McKellar—who played Winnie Cooper on The Wonder Years—shares how she took her love of math and turned it into an opportunity to impart her knowledge and experience to middle-school girls, teaching them that math is approachable and can build confidence. What started out as her passion has turned into a series of books on creative techniques to help students understand math and build belief in themselves.
SUCCESS also takes readers deeper into the Shark Tank with the brand Pipsnacks, which appeared on the hit ABC show in November 2014. Since the creators' appearance on the show, they scored a $200,000 investment from Shark Barbara Corcoran and went on to earn more than $3 million in 2015. Learn how the Brooklyn siblings survived the Shark Tank to get where they are today.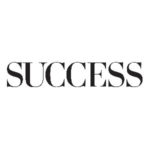 SUCCESS is your guide for personal and professional development through inspiration, motivation and training.