The 6 Quotes that Motivated Me Out of the Projects
Judging by the chic surroundings you might find me in today, you would never guess I was born and raised in one of the most violent public housing neighborhoods in Brooklyn—Marcy Projects.
I was exposed to downtrodden attitudes and discouragement more often than encouragement, which put the idea of becoming a businesswoman almost out of my mind completely. But, at a young age, I learned how to become an intuitive listener and apply action to whatever advice I could get my hands on—both from people in my life and those I didn't know but admired.
One of my first virtual mentors was my neighbor, Shawn Carter, who's better known today as Jay-Z. I would listen to him rap about achieving success by polishing his skills, and I realized that I, too, needed to refine mine. There are only two people I know who got their MBA from Marcy Projects—Jay-Z and myself—though I think Jay-Z stayed long enough to earn his doctorate.
After less than a year in college, I couldn't afford to continue so I took a receptionist position for a notable antique dealer in New York City, where I worked closely with interior designers whom I grew to admire. I worked really hard in that job and thankfully, many designers took notice of my efficiency in administrative work and so my career was formed.
With two decades working for designers, furniture showrooms and fabric houses on my résumé, I soon had the urge to launch and manage my own business. In 2012, with no formal schooling but plenty of personal work experience, I launched Viteri Style Management, which provides practical business management solutions for small interior design firms. I've signed on to produce and host my own talk show for The Design Network, an industry online and syndicated media platform. Designerlebrity™ Talk with Barbara Viteri will debut this fall.
Honestly, there are times I don't believe the incredible path my life has taken. But I know it wasn't out of luck. It was my virtual mentors and their inspirational words that propelled my business growth forward. I repeat these six mentors' quotes to myself almost on a daily basis and they are ingrained in my mind.
Here are my go-to quotes when you feel the odds are against you:
1. "I'm not a businessman; I'm a business, man." —Jay-Z
I know successful entrepreneurs are interested inmany things. They develop businesses under a brand. I'm always keeping new ventures on my radar to help develop VSM into a full-fledged brand.
2. "Perception creates reality." —Barbara Corcoran
This goes beyond getting people to think what you want them to think. It is more about believing in what you want to become real. I believed I was a business leader first before starting a business, and then people made my beliefs into a reality.
3. "Never assume someone is smarter than you." —Bethenny Frankel
I remember a designer spending more than $10,000 on a business coach. It took the business coach nine months to send her a binder full of documents to be read through and implement. After the designer reviewed the documents with frustration in lost time, she soon realized her existing office manager had achieved 10 times more than the hired coach had. That office manager was me.
4. "When you walk up to opportunity's door, don't knock on it. Kick that b*tch in, smile and introduce yourself." —Dwayne Johnson
No opportunity was too small for me to leverage. If I only conducted one speaking event, I was going to turn that experience into a talk show. I learned to leverage my opportunities and make people take notice.
5. "As soon as you succeed, they are coming after you." —Donald Trump
I'm still in my infancy stage in business and have experienced this quote firsthand. Friends will turn on you, family will want more from you and people will want to take you out just for sport. You have to learn how to handle pressure and stress to keep going and growing.
6. "People first, then money, then things." —Suze Orman
This is the best quote to learn how to get your priorities straight. It's simple.
Want even more motivation? Check out 10 unforgettable quotes by Jim Rohn.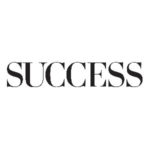 SUCCESS is your guide for personal and professional development through inspiration, motivation and training.