SUCCESS Foundation: Seizing the Moment
The windows of opportunity are sometimes open only briefly. Identifying them can be hard, but seizing the moment is even more difficult. We'd like to believe these opportunities will serve themselves up to us. Often, though, we must be creative.
This is a lesson adapted from SUCCESS for Teens: Real Teens Talk about Using the Slight Edge, the cornerstone material of SUCCESS for Teens, a personal-development curriculum by the SUCCESS Foundation. (SUCCESSFoundation.org offers free downloads of the e-book, facilitator's guide and audio to qualifying public schools, churches and nonprofit youth-development programs.)
One teen wrote in her journal about seizing the moment with a former rival to forever change their relationship for the better.
Kim and I had different styles, but we were also a lot alike, and we found each other threatening because of that. Our freshman year, we got into a fight. She started it, over some "he-said, she-said." I won and gained my peers' respect.
After that, I had to live up to my reputation. So when I walked past her, I had nothing to say. If we saw each other in the mall, we would roll our eyes at each other. If we saw each other at a party, we made it our business to walk past each other with disgust.
But when I came back to school from summer vacation senior year, I saw my archenemy, and she was no longer the same. Kim didn't do her hair or dress nicely anymore. She didn't even hang out with her group of friends. I began to see people picking on her for no reason, calling her names, throwing things at her and starting fights.
I heard through people that Kim was homeless because her mom kicked her out. For the first time, I did not want to pick an argument with her.
One day I went to the office of the school social worker, Ms. Bee, and saw Kim crying. I returned to Ms. Bee's office later and asked if she could set up a meeting between Kim and me. I explained that I saw how much pain Kim was in and wanted to help.
A week later, Ms. Bee called me into her office, and Kim was there. I said to Kim, "I came from a broken home. My mother, a drug abuser. My father, missing in action. But I was strong enough to overcome. You're beautiful and strong, and if you ever need a shoulder to cry on, I'm here."
Kim was shocked. I guess she never saw me as the type to have a hard life because I hide it so well.
We told each other things that almost nobody knew, and we laughed about it, too. After that conversation, we became true friends, because we trusted each other. I gave her clothes, lent her money, and snuck her into my house to eat and hang out. We became like sisters.
To download the SUCCESS for Teens e-book, learn about the program, share your story about it or make a contribution, visit SUCCESSFoundation.org.
This article originally appeared in the March 2018 issue of SUCCESS magazine.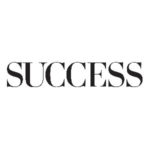 SUCCESS is your guide for personal and professional development through inspiration, motivation and training.