My Way: 15 Things That Motivate Me
Who?
Maggie Lord, founder and editor of RusticWeddingChic.com
Where?
Fairfield, Connecticut
What?
After planning her own rustic wedding, Lord started her business in 2008, an online resource for those looking to plan weddings of their own. Today the site has millions of monthly viewers. Lord provides design insights, planning tools and tips, and trend reports. She is also the author of three books.
What things do you never leave the house without?
My two boys—Jack, 5; Charlie, 18 months—and my iPhone. I pretty much need these three things for my life to run smoothly.
What's the last book you read that inspired you?
I read Lilac Girls by Martha Hall Kelly. This book was incredibly special to me because my aunt is the author and this was her debut novel.
Who is your favorite musician or band?
Pat Green. He is just a straight-up good musician, songwriter and always produces a song I want to hear.
What's your favorite feel-good movie?
Manhattan Murder Mystery. I have seen it a thousand times, and I still laugh at the same parts of this Woody Allen classic.
Who are your three must-follow Twitter accounts?
Emily Schuman (@ByEmily), Food & Wine (@FoodAndWine) and Lauren Jimeson (@LaurenJimeson, formerly (@AMommyInTheCity).
What's your secret weapon?
Discipline. When you work for yourself, it's pretty easy not to follow through on work because you are not accountable to a boss, but I know it was the discipline that I created for myself when building the company that has helped it become so popular.
How do you handle disappointments?
I usually go through a quiet phase when dealing with disappointments until I can process them, and then I talk my husband's ear off. When I am done talking to him about it, I call my mother. Disappointments and setbacks are a fact of life, so finding a way to work with them and make them into something good is critical for success.
What do you do to relax?
With a very busy work schedule, I don't find myself with as much time as I would like to work out, which used to be my go-to relaxation method. Now, the most relaxing moments I get are when I close my computer, put away all technology and just sit. I find the quiet so relaxing.
Who or what inspires you?
I am constantly inspired by my two boys and their amount of unending energy and love. I wish I could find a way to bottle the energy and use it for those times when I am dragging a little.
What's your morning ritual?
Coffee around 6 a.m., sitting on the couch with my husband and the boys, followed by more coffee, and then the rush begins.
Growing up, who was your role model? Who is your role mode today?
My mother and aunt owned a business together. Growing up, I was always in awe of how they were able to create a company, be loyal to their families and enjoy being in a creative setting. My mom always let me come to work with her, and I witnessed firsthand how to be a female entrepreneur, watching these women set me on my path to my current career. Needless to say, I still have the same role models today.
What's the last gadget you bought that changed how you do things?
I recently bought a Fujifilm Instax Mini Instant Camera. My 5-year-old son is really into photography, so I bought this camera as a way for him to get to play with photography and for us to have fun taking pictures together.
What's your favorite quote?
"When the work you put in is realized, let yourself feel the pride but always stay humble and kind."
—Lori McKenna, singer/songwriter
What's the most important lesson you've learned?
Life is meant to be enjoyed. I can get very bogged down with the amount of work I have to do or juggling work-life balance, but I try to stop myself and remember how we should be enjoying life. Take a break, take the kids to the park and enjoy the sun—work will be there later.
Which characteristic do you value the most?
Optimism. I am not a naturally optimistic person. I am first to think that something is not going to work, but I see the value in being an optimist. For the sake of my children and my business, I am slowly retraining my brain to be the person in the room who thinks the impossible is possible.
Related: My Way: 12 Reasons I'm Loving Life
This article originally appeared in the August 2016 issue of SUCCESS magazine.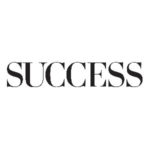 SUCCESS is your guide for personal and professional development through inspiration, motivation and training.