My Way: 12 Things I Live By
Who?
Jeff Rosenthal, co-founder of Summit
Where?
Los Angeles and Powder Mountain, Utah
What?
Rosenthal and four others co-founded Summit in April 2008. The conference series creates events for entrepreneurs to network and learn. The events also include musical performances and hands-on classes such as 3-D printing. The Summit flagship event will be hosted this year in Los Angeles, Nov. 3-6, and will feature distinguished thought-leaders such as Jeff Bezos, Malcolm Gladwell, Marie Kondo, Tim Ferriss, Brené Brown and dozens more.
A book you need to read is…
Sapiens: A Brief History of Humankind by Yuval Noah Harari. It goes through the question of what are the things that differentiated humans of 100,000 years ago, when the cognitive revolution started, from the humans of the 900,000 years before it. It arrives at some core, incredible principles that still guide our world today. It's a new sociological look at humanity, intellect and the human condition.
Words I live by are…
"What got you here, won't get you there."
It's important to approach the world with a…
Beginner's mind. You give yourself permission to fail and experiment and learn and connect with people. Never sit in the success of the past to assume it will lead to what you need for the future.
My favorite pick-me-up is…
My own version of bulletproof coffee. It's French press coffee with ghee and coconut oil. I use something called Four Sigmatic, which is a mushroom coffee with lion's mane. It is delightful. It fires you up in the morning.
I'm currently Netflixing…
Comedies. I liked Louis C.K.'s 2017 and Dave Chappelle's stand-up.
I love listening to…
Chances with Wolves.
My secret weapon is…
People who love me. The people whom I love the most and who love me the most won't love me any more or less based on the successes and failures of my projects. That really sets me free.
Something everyone should try at least once is…
Putting themselves out there. Whether it's planning an event, building a product or doing something special for a loved one, make an attempt at something outside of your current skill set and force yourself to learn.

COURTESY OF SUMMIT
Disappointment is…
The byproduct of misaligned expectations. If your expectations are misaligned, you'll create disappointment. If I find myself disappointed, I can take personal responsibility for setting the expectation that something would go my way.
When you're a young entrepreneur…
You want to be the key man. You want to score the final touchdown. You want to be the hero. That's natural when you're beginning your career as an entrepreneur. But if you can identify the roles that you need in your organization and bring in people who are not only as good but better, that is a profound skill that allows for scale. The key component of leadership is to recruit and identify talent that is better than you. You can accomplish anything in this world if you don't care who gets credit for it.
I love people who have…
Authenticity and presence—the ability to be present in the moment, and to authentically represent what you know and what you don't know. That's the most important characteristic because then you can build from there. Presence is an undervalued asset.
My aha moment was…
The first time I went to a Summit event that we built and curated. Within the first hour, the energy and the vibe and the inspiration and the intellectual stimulation were astounding and empowering. You realize that the people who accomplish the greatest things are just people. There's no real difference other than commitment. It was a very humanizing experience to be around people who have built great things. It really allowed me to believe in myself.
Related: My Way: 14 Things That Help Me Live a Beautiful Life
This article originally appeared in the November 2017 issue of SUCCESS magazine.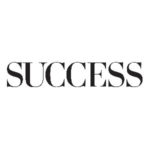 SUCCESS is your guide for personal and professional development through inspiration, motivation and training.