Jim Rohn on Working Harder on Yourself Than Your Job
This episode is sponsored by altMBA.
Work harder on yourself than you do on your job. It was a phrase that changed Jim Rohn's life. As the legendary personal development speaker and author famously said: "If you work on your job, you'll make a living. If you work on yourself, you'll make a fortune." In this clip from the archives, listen in to hear Rohn's advice on building a life worth living, plus why you should strive for, but not expect, perfection.
This interview appears on the SUCCESS Talks Collection, available in the September 2017 edition of SUCCESS magazine.

SUBSCRIBE on iTunes, Stitcher or your favorite podcatcher app so you don't miss an episode!
Takeaways:
In this helpful clip from the archives, learn why personal development is so important—not just for your career, but for your health, well-being and relationships
Your work is only a small part of who you are. Don't invest more than you do in yourself.
Favorite quote from this episode:
"If you work on your job, you'll make a living. If you work on yourself, you'll make a fortune."
—Jim Rohn
You might also like…
Sponsors:
Thanks to altMBA for sponsoring SUCCESS Talks. altMBA is now accepting applications. To find out more, visit altmba.com/successtalks. For special consideration, mention this podcast in your application and tell them SUCCESS sent you!
SUCCESS Talks, the popular audio program included every month in SUCCESS magazine, is now available as a weekly podcast. We feature fascinating interviews with prominent business, creative and thought leaders such as Tony Robbins, Richard Branson, Tim Ferriss and Barbara Corcoran, and include key takeaways designed to help you put information into action.
Catch up on all individual episodes at SUCCESS.com/SUCCESSTalks or download the monthly SUCCESS Talks Collection with your magazine subscription.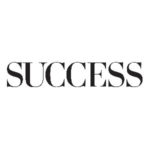 SUCCESS is your guide for personal and professional development through inspiration, motivation and training.