How To: Backyard Branding
Getting a front-page article about your business in The New York Times carries a whole lot of cachet (assuming the article is positive). But unless you offer a nationally available product, this kind of placement probably won't do a whole lot for sales.
Not so for local branding efforts, says branding guru Karen Post, author of Brain Tattoos: Creating Unique Brands That Stick in Your Customers' Minds. "You must clearly identify your No. 1 ideal customer, and you need to make sure you're doing things that are tied to the world you're trying to touch," Post says. "If that customer is local, it's key that your marketing efforts are also local."
Here are a few ideas to create a branding boom in your own backyard:
> Use your mouth. Speaking at local events—large and small—is an intimate and powerful way to position yourself as an expert before your target audience. The key is to provide useful information, not just showcase your product.
Example: A landscaping company owner might offer a free presentation to a local gardening club on trends and strategies for eco-friendly gardening. He may mention that his store sells various lines of green products, but the talk's focus is on educating the group about the larger trend, not just his business.
> Ask for a column. Position yourself as the local expert in your industry through a regular column in your area's most prestigious newspaper or as a commentator on the local network affiliate, says marketing and PR consultant Nancy Juetten. "Your column idea must add value for the readers and position you as the 'go-to' source for additional information, training and service," she says.
Example: Juetten herself landed a monthly "Media Savvy" column in her local Puget Sound Business Journal. "By offering to share this information exclusively and showcasing my writing samples to demonstrate my writing skill, the publisher was inspired to make an 'easy yes' decision," she says. Lead generation and new clients quickly followed.
> Billboards are not old-fashioned. "Rather than purchase multiple billboards, focus on a single billboard and make something extraordinary—press will follow if done correctly," says Dana Severson, founder of the Idea Heroes branding firm and a marketing blogger for Fast Company and AdvertisingAge.
Example: A hardware store might turn the billboard into a gigantic filter collecting airborne debris, using it as a massive way to demonstrate that it sells the best air filters in the region.
> Make friends with the local media. "It's not like calling Good Morning America and waiting for a return call," Post says. These are your community peers—people you'll run into at your kids' softball games—and you can develop relationships with them.
Example: Buy Chase's Calendar of Events each year. This is a collection of thousands of historical events by date: famous birthdays, and national and state events—everything from "Fresh Florida Tomato Month" (April) to "Wise Health Consumer Month" (Feb.). Orchestrate promotions around relevant events and coordinate with your local TV, radio and newspaper contacts, which are always hungry for story ideas.
> Use social media locally. Sure, Twitter and Facebook have a global face, but you can focus your social media efforts to attract local followers.
Example: Give something away on Twitter every day at random times, Severson says. "I'm not talking about a T-shirt—make sure it's something that people desire," he says. Retail business should make the winner pick up the prize in person. "Give your followers a reason to have your name on a search query, watching your every tweet."
> Give back—strategically. Partnering with local charities is a great way to get your name out in a positive way. But make sure you are committing to causes that align with your brand and will help you connect with your target audience.
Example: Olympic Circle Sailing Club in Berkeley, Calif., provides free boat rides to hundreds of middle school kids from low-income neighborhoods, which turns future sailors on to the water, heightens their awareness of environmental concerns (another one of the business's causes) and generates positive press.
First Person
Company: Akraya, a Silicon Valley-based IT staffing firm that caters to IT giants like eBay and PayPal
Source: Amar Panchal, CEO
Backyard tactic: Create a feel-good vibe with clients.
Evidence it works: Sales are up 30 percent this year.
About 90 percent of our business comes locally from Silicon Valley, which often feels like a village, since people go from one large IT firm to another and everyone knows everyone. Plus, IT is a very competitive and deadline-driven industry where positive word-of-mouth generates quick return business, so it is critical to brand ourselves locally.
One successful recurring event has been our "Pay It Forward" networking event that aims to connect recently laid-off contacts with hiring managers. These cocktail parties are a feel-good way to showcase our "little black book" of contacts, as well as actually grow business, since some people who attended made connections that resulted in jobs—and they became new Akraya clients.
One way we have gotten a lot of free local PR is by applying for local business awards. We have won several from the San Francisco Business Times and the Silicon Valley Business Journal, publications everyone in our industry reads, and then we launch an email campaign to make sure our clients see it. Having that mention and the third-party validation has helped raise our profile and doesn't cost anything.
We recently participated in a charity program through the Institute for Economic Empowerment of Women and hosted a female entrepreneur from Rwanda for a week. She spent time in our offices where she learned about business in the United States. But we also asked some of our clients to participate, and some senior executives mentored her for a day. Not only did this showcase our commitment to a good cause, but it also involved our clients in a way that was more memorable and powerful than just giving money to charity.
One seemingly small branding effort that has a lot of impact is our cookie campaign. Within a week of their start date, we give our contract workers a box of fresh-baked cookies in a custom, branded box. We encourage them to place it in the break room or another centrally located spot in the office. A lot of clients mention it and thank us. It is a simple thing, but very effective.
First Person
Company: The Greene Turtle Sports Bar & Grille
Source: Mike Sanford, CEO
Backyard tactic: Support local sports teams and charities.
Evidence it works: Grew from five to 28 locations since 2002, on their way to 150 restaurants.
We have 28 locations in Virginia, Delaware, Washington, D.C., and Maryland—most of them franchises. Our research shows that 85 percent of our customers come from a 3-mile radius or a 10-minute drive. People have a lot of choices where they can spend their dining dollars in this day and age, so to stay top of mind when they make those choices, it is important for us to be as active as possible in our local communities.
A big part of our identity comes from sponsoring local sports teams—youth teams, as well as recreational co-ed softball, bowling and other adult teams. We are a sports bar and grille, so this fits in with our core identity. Also, by providing their uniforms, it ties into our branded T-shirts and other apparel, which are very popular. Not only do locals love the shirts, but they help build the brand outside the community because many of our sports teams travel around to communities where we are growing.
We're also very involved in local charities through our Funds for Friends program. Each location partners with local organizations, and the store designates a specific date when 10 percent of total store sales for that day are donated to the group. The groups really get behind marketing the event, and we give them a handout with tips for promoting it. We regularly get 75 to 100 percent jumps in sales for those days.
Another strength of our brand is identifying with customers as the local bar—a "Cheers" where they come regularly and feel comfortable. This aspect of our brand is supported by our Mug Club. For $40, customers can buy a numbered ceramic Greene Turtle branded beer mug that hangs behind the bar and is retrieved only for that owner's use. The mugs give the owner $1 off beers for life, as well as access to certain VIP events at that location. They help create an after-work happy hour with customers who come in four and five times a week, and newcomers invariably ask about the program.
First Person
Company: Renasant Bank
Source: John Oxford, director of external affairs
Backyard tactic: Showcase talent and customer service directly to the target customer.
Evidence it works: Name recognition and market share are up.
We're a regional bank with 80 locations in Alabama, Tennessee and Mississippi, but we still operate as community banks branded state by state. We're a publicly traded company, but our brand is offering all the products of a big-city bank but with small-town service. We have to brand locally—we can't buy a 30-second ad on American Idol and expect people to remember us.
In northern Mississippi, where we're headquartered, we developed a regular segment called "Minute on Your Money," which airs on our local NBC affiliate—which has by far the largest market share here. These are prerecorded segments on personal and small-business finance featuring our bankers and our logo. The way they are produced and how the anchor announces them, they seem like a news package, even though we pay for them. These spots have really branded our people as local experts, and our bankers get noticed in public.
Last fall we rented a six-story JumboTron, hung it on the Tupelo city hall overlooking a public park and showed college football games—Mississippi State vs. Florida and Ole Miss vs. Auburn. Here in the South, we're crazy about college football. We had a hospitality tent for clients and a sound stage with bands. More than 4,000 people came out, and folks are still talking about it. It was really about having our employees out in the community, showing our hospitality, and we're planning on doing it again this year.
Not everything has to be expensive. One of our employees collected empty soda cans, filled them with rocks, sealed them and covered them with bank-branded cozies to make noisemakers for a local high school football game. It sounds so stupid and hokey, but it probably cost $100 and people are talking about that, too.
All this branding is paying off. We hired Market Research Insight, which found that over the past year our name recognition has jumped from 80 percent of the area's population to 90 percent, and we're now tied for the biggest market share in the area.
Example: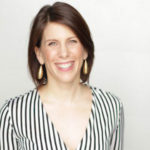 Emma Johnson is a business journalist, gender-equality activist, and founder of the world's largest community of single moms, WealthySingleMommy.com. Emma and her best-selling book, The Kickass Single Mom, and her organization, Moms for Shared Parenting, have been featured in hundreds of national and international media outlets.