Did You Know a Hot Drink Can Affect Your Decisions?
Getting ready for a challenging negotiation? Offer a hot beverage and a comfy chair to the other person—but pour a cold drink for yourself (to literally soften up your adversary while you remain steadfast).
Trying to sell yourself with a résumé? Make sure the paper isn't too thin (lest you be taken lightly).
Editing a peer's written report? Don't use a red pen if you want to see improvement in the second draft (because exposure to red significantly reduces performance).
These ideas may sound far-fetched, but research psychologist Thalma Lobel, Ph.D., lays out scientific evidence in her new book, Sensation: The New Science of Physical Intelligence, to show that our environment can affect our thinking, performance and behavior in these and other ways we might not imagine.
Are you skeptical? What if…
We
Wrote
This
Story
Like
This?
If the answer isn't obvious; here's a clue: Content that's read from top to bottom is more believable, Lobel writes.
Watch Lobel give tips for using your "embodied intelligence"—and start understanding how environmental cues can give you an advantage in the business world.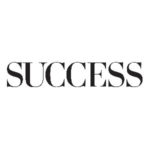 SUCCESS is your guide for personal and professional development through inspiration, motivation and training.