Trimmed and toned is a challenge for people who'd rather work than work out. And that doesn't sit well with NBC's Biggest Loser coach Dolvett Quince.
Even if you can't make time for a full workout, it's likely you can squeeze in a few minutes of exercise at your desk, says Quince, founder of Atlanta-based Body Sculpture Inc. and creator of a program called "Me & My Chair: The No Excuses Workout." If you're consistent in your efforts and follow a plan, "you will see week-to-week improvements," he says. Here are some of his tips and ours:
1. Stand up facing a chair without wheels, then step up onto the chair seat then back down again, and repeat. Do three sets of 10-15 reps with the opposite leg.
2. Slide forward in a chair without wheels. Grip the front of the seat, and lower and raise yourself off the chair to tone the backs of your arms. Do three sets of 10-15 reps.
3. Do stomach crunches while seated by bringing your knee toward your chest, then alternating with the other knee. Do three sets of 10-25 reps to work the core. Or bring one knee toward the opposite elbow, then alternate on the other side to work obliques.
4. Stand in front of your chair, arms outstretched and feet squared. Lower yourself into a squat, just touching tush to chair so thighs are at a right angle to your torso. (Make sure your knees are above your ankles to avoid knee strain.) Stand up straight and repeat, doing three sets of 10-15 reps to work thighs and glutes.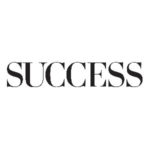 SUCCESS is your guide for personal and professional development through inspiration, motivation and training.