This Work-from-Home Setup Will Give You Serious FOMO
Who: Joe Silberzweig
What: Co-Founder of Medium Rare

Where: Los Angeles
Medium Rare (founded by Silberzweig and fellow Forbes 30 Under 30 alum Adam Richman) aims to be the Gen Z version of Dick Clark Productions, partnering with athletes, entertainers and brands to build iconic media properties.
A go-to producer of mega events and global live streams that have attracted more than 40 million viewers, they've worked with Shaquille O'Neal, Rob Gronkowski, Guy Fieri and more big-name brands. Most recently they helped the Golden State Warriors to launch the NBA team's exclusive non-fungible token (NFT) collection.
In this new feature for SUCCESS, Silberzweig is showing off the must-have office gear and decorations that make him and the Medium Rare team feel at home while creating the work that has won four Webby Awards.
"The motorized stand-up desk is a big key to my success."
Standing Desk

"When it comes to productivity, this is where it all happens. The motorized stand-up desk is a big key to my success! I am up and down all day and certainly see the benefits, plus I love presenting while standing as if I were in person, rather than sitting down at my desk. It is a total game changer."
Medium Rare Sign

"This sign really brings the Medium Rare DNA to life. One of our production fabricators made it for us as a gift and it has been a massive hit over Zoom ever since."
Bookcase

"Over here I've got a few of the prized possessions of Medium Rare. You've got a dope Infinite Object video frame showing the NFT of Rob Gronkowski. We developed Rob's NFT; he was the first athlete to launch his own."
Have a killer work-from-home setup? Give us a tour via Instagram Stories and don't forget to tag @successmagazine
This article originally appeared in the September/October 2021 issue of SUCCESS magazine. Photos courtesy of Joe Silberzweig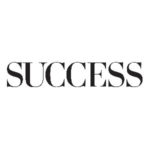 SUCCESS is your guide for personal and professional development through inspiration, motivation and training.