The Wizard of Laughter: Make Your Bad Mood Disappear
One night after a 12-hour rehearsal for a parody production of The Wizard of Oz, I was driving home from the city, anticipating a relaxing night at home. I was in a great mood, having spent a long day playing the Cowardly Lion. I didn't think there was anything that could wipe that satisfied smile off my face or stop my fingers from happily drumming to the radio.

But as the famous line goes, "Life is what happens to you while you're busy making other plans."

There was construction on the Long Island Expressway—aka the World's Biggest Parking Lot. And it was going to take me hours before I'd get home. My chances of spending time with my wife slipped away, minute by minute, brake light by brake light.

My great mood was fading fast and my frustration was turning into anger. Then I don't know what came over me. I needed to vent. I began to shout obscenities in the voice of the Cowardly Lion (normal, right?). Just the thought of a scaredy-cat lion swearing like a truck driver made me laugh.

With traffic at a complete standstill, people were getting agitated. To make matters worse, some drivers were moving onto the shoulder of the road, and then forcing their way back in line… something New Yorkers don't take lightly.

Tempers were flaring, horns were sounding, and people were cursing and making all kinds of (inappropriate) hand gestures. But I was behind the wheel of my car, in character, motioning to the other drivers: "Grrah, grraha, aha, aha, ahaaaa, I'm afraid! I wanna go home! I wanna go home! Everybody is cutting ahead! I don't like traffic. I wanna go home! Ahaa, ahaa, Haa!"

If you had seen the expressions on the faces of the people I passed, I guarantee you would have laughed, too. I could only imagine what they were thinking or saying….
"Don't look at him, honey!"
"Lock the door and look straight ahead!"
"What's wrong with that guy?"
"Please! Just keep driving!"

So I like to vent my frustrations in the voice of a famous person, cartoon character or a funny accent. You think I'm crazy, right? Well, the tension dissipates, my mood changes and I'm able to find enjoyment in the moment when I do impressions. I bounce back. And it works every time.

While you might think I'm nuts, and anyone witnessing my crazy antics might agree, at least I know I will be going home to my family or to a client meeting or making an important decision in a good mood. In fact, my energy level is cranked. Why? Because I am able to change my state of mind.

I go from a bad mood to a good one just by choosing to make a slight shift in my attitude. I choose to see the humor in a tough situation and allow myself the freedom to laugh. And I think this common sense success strategy needs to be embraced by people in all walks of life, personally and professionally.

Choosing to defuse a stressful situation with humor is the fastest way I know to bounce back and acquire the attitude you need to succeed, while also enjoying the process of getting there. I guess you could call me the Wizard of Laughter.
Don't let complainers drag you down. Find out how to deflect their bad attitudes.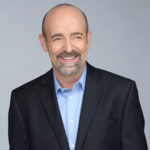 Steve Rizzo is the Attitude Adjuster. You can't attend one of his keynote speeches and leave with the same attitude. He's a personal development expert, comedian, motivational speaker, and best-selling author. It's no surprise that he's been inducted into the Speakers Hall of Fame, an honor bestowed upon on fewer than 250 speakers worldwide since 1977. You can find out more at www.steverizzo.com.