SUCCESS Legend: W. Clement Stone

When William Clement Stone was just 3, his
father died, leaving nothing but gambling debts
and a widow and son in poverty.

Living with his mother and relatives in an apartment on Chicago's rough South Side, 6-year-old
Stone sold newspapers to help support the family. In this hardscrabble environment of
the early 1900s, he had to compete with older boys for street-corner territory. But the young
Stone was adaptable and resourceful. He began concentrating on restaurants as better places to
peddle papers.
In what he later recalled as his first experience "turning a disadvantage into an advantage," he
returned repeatedly to one restaurant to try to sell papers, only to be thrown out each time by the
owner. Finally, through audacity and tenacity, Stone persuaded the owner to let him set up shop.
The owner soon became a great friend, and Stone continued to grow his humble newspaper
enterprise. By 13, he owned his own newsstand.
In a life that spanned a century, Stone ultimately became an insurance magnate, philanthropist,
publisher, best-selling author, and a pioneer in the field of personal development. Indeed,
W. Clement Stone was Mr. Positive Mental Attitude.
But what made him so excited about the possibilities for success? What enabled him to see
opportunity in every situation, even in adversity and failure? Colorful and fun-loving, Stone
seemed to repel negativity. His life trajectory was a steep climb to ever-increasing success, with
every challenge transmuted quickly into useful insight. His personal life was equally successful,
married 79 years to his childhood sweetheart, with three children and 12 grandchildren. What
did Stone know about living life and doing business that eludes the average person, who is so
often subject to disappointment, negativity, frustration and despair?

A 'Self-Builder'
Even as a boy peddling papers, Stone was becoming what he later described as a "self-builder"
in his autobiography, The Success System That Never Fails. He was modeling his life after the
inspiring Horatio Alger stories about poor boys who pulled themselves up by
their bootstraps to lead lives of purpose and wealth.
When he was 16, he dropped out of high school to work for his mother at
a casualty insurance agency in Detroit. He later would obtain a high-school
diploma as well as some college credits, but for the time being, school would
have to wait. Already an accomplished salesman and positive thinker, Stone
quickly took to the insurance business. His experience selling newspapers
made him a fearless cold-caller, speaking of his prospects as "gold calls." Stone
sold staggering volumes of small, inexpensive policies, at one point more than
100 in a single day.
In 1922, he returned to Chicago and, with an investment of $100, established
what would become Combined Insurance Company of America (now part of
ACE Corporation). The following year, he wed Jessie Verna Tarson, making
good on a promise to her when he was 16 that they would marry when he
turned 21.
Meantime, Stone set about building a sales force and training his employees
in his developing methods and philosophy. Positive mental attitude, or
PMA, was the Combined Insurance mantra. Another favorite three-letter
abbreviation stood for his favorite form of fi nance—OPM or "other people's
money"—which Stone used to buy other insurance companies and expand his
burgeoning empire.
Along with Combined Insurance, Stone's business acumen, wealth, confidence and happiness grew steadily. He freely shared
his sales and self-motivation
experience with every salesman who cared to put his bold methods
into practice.

An Irrepressible Optimist
Stone began every day by exclaiming, "I feel happy! I feel healthy! I feel
terrific!" and he encouraged his employees to follow his lead. He cut an unforgettably
jaunty figure with his signature thin black mustache, smart spats, and
brightly patterned vests and bowties, and was seemingly indefatigable when it
came to maintaining an upbeat outlook. He once said, "What's a few million
dollars? Everything's relative." And when he sensed attention fl agging at meetings,
Stone would cry, "Bingo!"
Finance expert and journalist Terry Savage attested to Stone's morning
routine in a 2002 Chicago Sun-Times column commemorating his 100th
birthday. "Once I sat a row in front of Mr. Stone on a flight to Europe. As the
flight attendants were trying to rouse sleepy passengers for an early morning
landing in London, I suddenly heard a loud voice behind me: 'Stand up. Raise
your arms. Repeat after me: I feel healthy! I feel happy! I feel terrific!' And, you
know, I did feel a lot less jet-lagged after I joined him in his everyday ritual,"
she wrote.
Even the Great Depression couldn't diminish Stone's
spirit. By 1930, he had 1,000 insurance agents in his
employ selling life and accident insurance. He often
hired people with little or no education or prospects,
and was likely the catalyst for many a Horatio Alger
success story.
Stone later told a New York Times reporter the
Depression was a constructive influence, in that it
stimulated hard work and ingenuity. It certainly seemed to have that
effect for him, as he continually sought ways to increase sales and
motivate agents. When he read Napoleon Hill's seminal work, Think
and Grow Rich!, he was so inspired that he distributed copies to every
Combined Insurance salesman. Stone credited the resulting upswing
in sales to Hill's principles.

A Fortuitous Meeting
Some years later, Stone made a point of meeting Hill when Hill
came to Chicago to give a lecture. Stone convinced him that, through
their combined philosophies, they could accomplish great things and
inspire people the world over—and in 1952, they began a legendary
partnership. Together, they produced books, courses, lectures, and
radio and television programs. In 1954, they published Success
Unlimited, the predecessor to SUCCESS magazine.
In 1960, Stone and Hill published what became one of the most
widely read personal-development classics, Success Through a Positive
Mental Attitude. The book was an instant best-seller that attracted
other disciples, including Og Mandino, who claimed it was the
turning point in his life, helping him escape a downward spiral of
alcoholism. Mandino later joined Combined Insurance, as well as
Success Unlimited as its editor, and became a best-selling author in
his own right.
By 1979, the little insurance company W. Clement Stone started
with $100 in savings reached $1 billion in assets. Terry Savage
remembered interviewing Stone during this time period for a stock
market program on TV. "His enthusiasm for the possibilities of life
burst through the camera, as stock market quotes streamed below,"
she wrote. "It was as if he were exhorting the viewers to believe
that they could do whatever they dreamed. And, in fact, that was
his message."
In 1980, the same year that Combined Insurance went public on
the New York Stock Exchange (with the ticker symbol PMA), Stone
was nominated for the Nobel Peace Prize for an illustrious life's work
that focused heavily on philanthropy. Over the years, W. Clement
and Jessie Stone donated money to myriad charities and individuals,
never hesitating to give if they thought the cause worthwhile.

Abundance Through Giving
A candid bit of advice from Stone originally published in Success
Unlimited sums up his philanthropic beliefs: "Be generous! Give to
those you love; give to those who love you; give to the fortunate;
give to the unfortunate; yes—give especially to those to whom you
don't want to give. Your most precious, valued possessions and your
greatest powers are invisible and intangible. No one can take them.
You, and you alone, can give them. You will receive abundance for
your giving. The more you give, the more you will have."
When he died several months after his 100th birthday in 2002, W.
Clement Stone had given an estimated $275 million away to charity.
One of his favorite organizations was the Boys and Girls Clubs of
America, and many young people went to school on his dime as
part of his dedication to widespread empowerment and education of
youth. The W. Clement and Jessie V. Stone Foundation that he and
his wife established continues to support countless humanitarian,
mental health, religious and community causes. His estate also
provides funding for The Napoleon Hill Foundation.
But perhaps the most valuable contribution of W. Clement Stone's
long life was the fact that he was a happy, fulfi lled man who shared
his understanding of the simple—but not necessarily easy—habits
and attitudes that produce success, wealth and happiness, namely
his beloved positive mental attitude. In books, articles, speeches
and one-on-one encounters, he shared the universal principles of
success that he had used in his own remarkable life as Mr. Positive
Mental Attitude.
"All I want to do is change the world," Stone once said. And
through attitude and action, W. Clement Stone, a Horatio Alger story
come to life, did exactly that.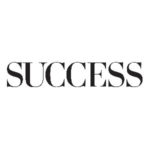 SUCCESS is your guide for personal and professional development through inspiration, motivation and training.