Sharks from Shark Tank Partner with SUCCESS Magazine
DALLAS—Today, Dallas-based SUCCESS unveils its magazine redesign with its October 2015 issue on newsstands Tuesday, Sept. 8. This month, readers can swim with the big fish as six renowned Sharks, Mark Cuban, Daymond John, Barbara Corcoran, Lori Griener, Kevin O'Leary and Robert Herjavec, from ABC's Shark Tank grace the magazine cover. SUCCESS takes their readers inside the minds of the celebrity investors who offer advice on how to overcome obstacles on your path to greatness and provide a guide to learn how to survive the treacherous waters of success.
"I've had my best success on the heels of rejection."
—Barbara Corcoran SUCCESS magazine October 2015 cover story
Shark Relationship Kicks Off with a Monthly Partnership
The Sharks will become a recurring feature on the magazine's monthly audio CD beginning in October, and will write a monthly column that showcases the Shark Tank businesses in which they have invested. What happens after the startup leaves the show and the Sharks make their investments? The October issue offers readers "Swimming Lessons," updates on several of the most popular Shark Tank businesses and success stories. Learn the key lessons they shared with their companies that helped them go from barely scraping by to becoming multimillion-dollar business operations.
With this exclusive SUCCESS content, the Sharks give readers insight and key lessons from their entrepreneurial experiences, revealing what is possible when they apply their passions, imaginations and efforts.
"Money is never the answer to the problem-it's the byproduct of finding a solution."
—Daymond John SUCCESS magazine October 2015 cover story
Sharks Reveal the Surprising Upside to Obstacles
In addition, three Sharks reveal how they overcame having dyslexia and converted what could be seen as a weakness into a strength for business. Read about a study by Julie Logan of Cass Business School in London and MIT that uncovers findings as to why dyslexia is far more common among entrepreneurs—an estimated 35% of all U.S. entrepreneurs— than the rest of the general public. The surprising study shows these Sharks are not alone in their endeavor to turn a learning impediment into an asset.
"You get a lot of chances in life. Even if you fail in one, you've got to keep going."
—Robert Herjavec SUCCESS magazine October 2015 cover story
Shark Tank Cast Provides Unprecedented Access for Oct. 2015 Issue
Coming straight off the Sony set wrapping their first day of taping for the new season of Shark Tank, SUCCESS gained exclusive access to shoot the entire cast of the Sharks for their cover photo and feature story, while at the same time getting to know the Sharks beyond the persona they portray on their show. From surprising laughs and humor to hearing exclusive insights from the SUCCESS editorial team members, the behind the scenes video from the Shark cover shoot shows readers a new side to the entrepreneurial "predators."
Fun Facts About Shark Tank
Last year the hit television show selected only 150 businesses out of 45,000 applications with then only 115 airing.
While edited segments on the show run quickly between 8-10 minutes, the actual pitch time can take an hour or even longer before a decision is made.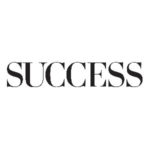 SUCCESS is your guide for personal and professional development through inspiration, motivation and training.