Relishing an Imperfect Life
Earlier this year, my boyfriend got down on one knee in our tiny apartment kitchen and asked me to marry him. The proposal was unexpected, simple and wonderful. I'm ecstatic and eager to spend my life with him. He's the one person I can vent to when I'm stressed, binge-watch House of Cards with on a lazy Sunday night and explore new places with when the travel bug bites.
We recently started planning our wedding and I found myself overwhelmed by the minutiae of everything, from the type of succulent that would look best in the centerpieces to the ideal stationery thickness for invitations. I wanted it all to be perfect. I thought if the photos showed us radiating joy, we must be happy, right? And if I looked beautiful on our wedding day, my fiancé would always remember me that way, right?
But I was wrong. Over the last few months I've learned that none of those small things really matter. We're already full of joy. And I already know he'll think I'm beautiful, even if my hair is frizzy or my makeup smears.
It doesn't matter whether our wedding is perfect or even if the life we build will be, but how we deal with the hurdles we will face does matter. Our first date was less than perfect (as you'll read in my article on Page 68) and our relationship has been riddled with challenges, such as dating long distance for several years and having conflicting views on where we should live. But our resilience through those moments made us ready to spend a life together. We've learned from our mistakes and have navigated heavy seas countless times. We know what irks us and how to cope with it.
Laying the bricks for a happy marriage doesn't mean having the perfect wedding dress, invitations or centerpieces. It means having each other's back for the long haul, knowing when we need to compromise and embracing those inevitable moments of imperfection.
Related: 8 Traits of Healthy Relationships
This article originally appeared in the July 2016 issue of SUCCESS magazine.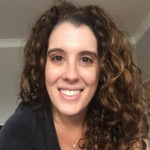 Jamie Friedlander is a freelance writer based in Chicago and the former features editor of SUCCESS magazine. Her work has been published in The Cut, VICE, Inc., The Chicago Tribune and Business Insider, among other publications. When she's not writing, she can usually be found drinking matcha tea into excess, traveling somewhere new with her husband or surfing Etsy late into the night.