Joey Nolasco and Joe Rasnick, Founders of integrity/Architecture
Business Name: integrity Architecture, pllc
Industry: Architecture
No. of Employees Including Yourself: 3
► GOAL SETTING:
From Step 1, what is your WHY? Tell us why you started or are starting your small business.
Our Why is easy…it's in our name, INTEGRITY. Our business was founded to achieve and maintain honesty and integrity so our clients are enchanted with us and never just a paycheck for us. We have had 20years combined experience in (3) three different architectural firms. Our experience taught us many good things about the practice, but it has many times left us disenchanted with the direction some firms seem to take chasing paper. We knew setting out on our own would not be easy and we knew we were leaving the security of our established firms to chase our dream of a new and fresh idea (honesty and straight talk).
Of the three goals you set at the beginning of the Start Small Win Big Challenge, which one became your primary goal throughout the contest and why?
Our most important goal was establishment of a specific BENCHMARK GROSS BILLING amount for 2012. We set a goal of achieving a gross billing to gauge our success and pay our startup debt. This goal proved important for many reasons. Our goal immediately forced us to analyze and project our expenses and look at how we could realize a profit. We started our goal January 1, 2012 and projected our first year expenses and determined where we thought our gross monthly billings should be for us to see the momentum and client base was there for our future success. This process got us looking at macro (long term) and micro (short term). We projected a clear picture of our goal gross billings based on spread sheets outlining expenses including but not limited to insurances, salaries, rent, legal fees, consultant fees, and startup expenses (fit-up, computers, software, etc..). This process gave us a gauge to constantly reference as we met clients and began landing jobs as well as narrowing our focus for marketing.
► CHALLENGES:
Name three specific challenges you faced while on the path to achieving your primary goal and how you solved them.
1. The first challenge we faced was getting the work. We now knew what our monthly billings should be and we just had to begin landing the work. We had banked on a small group of clients and realized quickly that the work we anticipated would be there immediately would take some time. So we had to spread our horizon realizing our focus on marketing had to expand to other areas.
2. Our second challenge has been producing the work. Once the preverbal dog chasing the car finally catches the car he has to figure out what to do with it…So as we landed our first couple of jobs it became clear that one of our initial goals (hire quickly) was closer than we anticipated. Since we were still feeling the sting of startup cost so hiring seemed like the last risk we wanted to take. But we realized hiring was a necessity to produce the work.
3. Finally we faced the challenge of billing for the work and reaping the benefits of our labor. We have always known that our talents were a strength we had and people took notice. We have confidence in our design ability and ability to organize and execute jobs. One area proving difficult to prepare for is the process of negotiating fees, billing clients, and following up on unpaid bills. Again we dropped back and looked at our ultimate mantra of integrity, honesty and straight talk. We have been utilizing our straight forward approach with the financial side as well and it seems to be a welcome attitude with our clients and consultants.
Identify three small victories along the way that led to your achieving the primary goal.
Our main focus was on INTEGRITY and honestly. As we got the work we realized that our focus on client enchantment paired with our billings goals / need to produce quickly got our clients excited and they began sharing their excitement with others who sought our services. One particular client has referred us to three other projects within their community in the first quarter of our business. We feel blessed that our vision we discussed for so long privately has real world, public appreciation and buy in. The feedback we have received has left us very hopeful.
Which three specific steps of the Start Small Win Big Challenge had the most impact on your progress and why?
1. Step No. 3 Knowing your numbers proved to be one of the most important steps for attaining a clear perspective on our benchmark billings. We developed an in house method of tracking our fees, our consultant's fees, and our subsequent net profit for each job. This spreadsheet was linked into another spreadsheet we created to track our expenses. These two spreadsheets combined with use of our bookkeeping software helps plan our work carefully and is a visual tool to monitor where our time should be focused.
2. Step No. 6 was helpful for building our business because as we set out on our own we realized that our focus was on a limited number of clients. Once we began considering areas to track leads we were able to broaden our horizons and take chances on calling and submitting responses for proposals. We have begun a list of current and potential clients. We review this list weekly and determine what actions we can take to keep us in front of our prospective field of customers.
3. Step No. 9 reminded us that our age could be a huge advantage in the leverage of social media. We like to quote Kennedy by announcing we are a firm founded with talent "old enough to know and young enough to do." We have the experience with large complex projects and came into the field at a time of great computer hardware and software developments. We have embraced technology and feel it is one of our greatest strengths. Step 9 helped us combined our knowledge of social media with our design abilities and tech savvy minds to create an integrated marketing and delivery strategy. We use web programs and social media to get our design out there to our clients and get interest from new clients.
► RESULTS:
Did you meet the primary goal you set at the beginning of the Challenge? Explain why and how.
Our most important goal was a specific benchmark gross billing amount. We knew if we hit this amount we would feel confident in our decision and in our success. We just finished our first quarter and we are proudly 70% of our anticipated first year gross billings. If we continue along with the same pace as our first quarter we should surpass our first year goals by the third quarter (if not sooner!).
How will lessons you learned from this Challenge drive your success in the future?
My grandfather always taught, "Show me your friends and I will show you your future." Our intent with entering the challenge was to surround our start-up with influences that would shape our thoughts and strategies to create a successful business. Our energy, enthusiasm, and confidence has been boosted each time we looked over the thoughts and suggestions of Start Small, Win Big. We hope to continue looking at these suggestions as well as other positive influence to make us the best we can be and never lose sight of our WHY!!!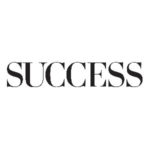 SUCCESS is your guide for personal and professional development through inspiration, motivation and training.