How to Make a Business Partnership with a Spouse Work
Married couples working together is not a new idea. After all, spouses with business partnerships have run farms and small enterprises together for decades—this is how arguing was invented, sociologists will surely soon announce.
Marion McCollom Hampton, Ph.D., co-founder and senior research fellow at BanyanGlobal Family Business Advisors, says couple-run businesses can work swimmingly—but they're kind of rare. Such endeavors should not be approached lightly.
"When it works well, [spousal] business partnerships are spectacular," Hampton says. "In those cases, they're in sync and have such an intimate relationship that they can accomplish amazing things. But when it doesn't work, it is an incredible train wreck. For most people it is very, very hard to draw the line between business and home—and that can be devastating for both the company and the marriage."
Tips for a business partnership with your spouse
In her decades in the field of family businesses, Hampton has developed guidelines to help married couples start, run and retire from successful enterprises:
1. Detail duties for each spouse in the business partnership.
Even if each partner has naturally slipped into a particular role in the business, it is critical to sit down, give both spouses a title and write down their job responsibilities.
2. What's the partnership model?
Decide what kind of business relationship you have. Many couples find themselves in what Hampton calls the "joined at the hip" phase when they launch a company. That is, it may be necessary to work closely together all day, every day, while getting a business off the ground. But this arrangement may result in issues if it carries on into more mature growth phases. "It is really hard to pull off working together at the office and at home all the time," Hampton says.
3. Revisit roles in the business partnership with your spouse.
As the business grows and changes, so too do the duties of the managing partners. For example, a business may launch with one spouse in a senior role and the other serving as an adviser or administrative assistant. As the business matures, the secondary position may develop into an equal one. If the new dynamics are not identified, power struggles and resentments may emerge. "Competition and resentment are common between people who love each other and work together," Hampton says.
4. Establish time for work and time for family.
It is natural for dinner-table talk to turn to work when both parents work together. Hampton has seen this dynamic swing out of control in different ways: Some parents are so immersed in business they shut out their children, and others unconsciously impose their passion for the company on the kids. "Sometimes a couple who works together can draw such a tight circle around themselves they shut others out," Hampton says. Aim for chunks of family time when no business talk is allowed.
Also make a point to discuss company happenings with children in an effort to share this part of your life and educate them about what you know best.
5. Seek a third-party sounding board when you have a business partnership with your spouse.
Many businesses benefit from consultants who can lend an objective perspective. With outside help, couples can resolve many of the logistical and emotional stressors that emerge. Family business advisers, couples therapists, advisory boards and coaches can be valuable investments for couple-owned businesses. "Especially in situations where one spouse is not carrying their weight, an adviser is necessary to open the lines of communication," Hampton says. "No one else is going to do a performance review."
How real couples handle business partnerships with spouses
Peter and Gina Blatt
Owners
Company: Blatt Financial Group, a 21-year-old financial-planning and estate law firm in Palm Beach Gardens, Florida.
Secrets: Carve out time to talk business one-on-one; negotiate job titles and roles as the business changes.
The Blatts have had two incarnations of their business partnership. During the first incarnation, the business started out of a guest room in their home, with Peter serving as the principal and Gina as administrative assistant.
"That time it went horribly wrong," Peter says. They were so involved in growing the business that they didn't take the time to actually talk about it. "Gina would wake me up at 2 a.m. to remind me to follow up on an invoice because it had been on her mind, building up," he continues.
After a stint of staying home with their two children, Gina returned to the practice. Today the two take a brisk 30-minute walk together, working on fitness goals while also hashing out their business concerns. "That way we can focus on our family more when we are home," Gina says.
The Blatts have had to negotiate roles as the business has grown. "When we first started, I saw myself as helping him out," Gina explains. "Then at a party someone asked, 'Do you work for Peter?' In the past I would have said, 'Yes, I'm the office manager.' But that didn't feel good. At that point I wanted to be acknowledged as the co-owner." That change followed a period of tense bargaining.
Peter concedes: "At first I had an ego, and my attitude was, No! This is mine! But then I started to see that I couldn't do it all by myself and how much stronger the business is with Gina as a partner."
Peter has two law degrees—a J.D. and an LL.M.—and is president at the company. Gina serves as bookkeeper. But both say she is now a true equal in the firm—the details of the business partnership are in job descriptions for both spouses. "Gina has excellent judgment about people, and she has taught me how to decide if a client or employee is right for our company," Peter says.
And clients appreciate the atmosphere of the firm. "Our clients really like how we work together and treat each other—and that translates into how we treat them," Peter says. "Our skills complement each other well and we are much stronger working together."
Gina and Bernard Baski
Owners
Companies: TriFit Club & Studios, a nearly two decade-old fitness club in Santa Monica, California, and Pür Pak, a vitamin supplement, which they co-founded with Stephen McPherson.
Secrets: Define roles at work and home; enlist the help of a couples therapist.
Soon after the Baskis met 23 years ago, Gina left her college teaching job and the two teamed to build a business based on their shared passion for health and fitness.
"It all happened so organically," Gina says. "We are both good at different things, and we took over different aspects of the business." She oversees all the companies' administration and business development; Bernard is responsible for the fitness programming, hiring and training coaches. Add on the supplement business and two children, and "it can all be very challenging," Gina says.
Over the years, the Baskis have worked through some difficulties. Gina, for example, became bitter because she was not able to participate in the daily fitness activities that initially drove her passion for the business. The couple benefited from seeing a therapist. Gina began to teach classes and attend events to balance out the many hours she spends in the office. "I get resentful because I think his job is more fun than mine, and I certainly struggle with that every day," she says.
They have also been challenged to separate their business lives from their relationship. "We work together, live together and train together—there is no reason to ask how each other's day was!" Gina says. They unwind by taking long runs together and have made a point of ruling out work talk during that time.
The two have negotiated balancing family with business. Because Bernard has more flexibility in his schedule, he oversees more parenting duties. It balances Gina's zeal for the business, which they say is the main driver of their companies' growth. "Being a mother is different when you're a businessperson, and I really lament the time spent away from the kids," Gina says. "The thing that makes me the happiest is that he is really there with the kids."
This article was updated April 2023. Photo by Southworks/Shutterstock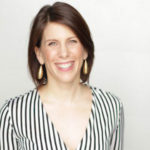 Emma Johnson is a business journalist, gender-equality activist, and founder of the world's largest community of single moms, WealthySingleMommy.com. Emma and her best-selling book, The Kickass Single Mom, and her organization, Moms for Shared Parenting, have been featured in hundreds of national and international media outlets.