How To: Build Business by Exhibiting at Trade Shows
Trade and consumer shows serve as a powerful stage for meeting potential customers, building on current client relationships and creating partnerships with other organizations. The keys are to plan ahead, make the most of your time and space, and challenge any preconceived notions of trade shows, says Thom Singer, sales and marketing consultant and author of The ABC's of Conferences and contributor for Trade Show Network News.
"Trade shows can be one of the best ways to get in front of a targeted group of potential customers and build on your current client business," Singer says. "But you need to prepare for the before, during and after of the show." The following steps can help you reap the greatest benefits from show participation.
• Determine which trade shows offer the most return on investment. Patrick Hull, an entrepreneur who has attended scores of shows to promote the 30-plus enterprises he has launched, says to consult peers and competitors and ask your trade organization to find the best fit for your business. "Trade shows are very expensive," Hull says. "You need to pick the right ones."
• Scrutinize the show attendee list. Before the show, consult this list and invite key people to breakout meetings or dinners, or lure them to your booth with special offers. "Make sure the offer is really enticing," Hull says. "People are bombarded with offers these days."
• Mingle with attendees. "One of the biggest mistakes vendors make is to separate themselves from the attendees," Singer says. Break down those invisible walls. Attend all keynote events, networking opportunities and cocktail gatherings. "A show is a micro society, and when you stand shoulder to shoulder with people you want to work with, you find ways to relate to them," Singer says. "People bond when they share experiences."
• Spend money (but not too much) on your booth. "You want your booth to be inviting and make an impression of quality," Singer says. But there's usually a point of diminishing returns, so budget accordingly.
• The most important booth asset is engaged people. "Having an empty booth is the same as flushing money down the toilet," Singer says. So is staffing a booth with employees who are reading magazines or playing with personal computers or smartphones. The devices "tell potential clients that there is someone more important than them," Singer says.
• Ask questions to spark conversations with attendees. Ask about their expectations for the show, their needs, problems or greatest joys related to your product and industry. Leading with an elevator pitch is a turnoff, Singer says, but "asking questions allows you to discover ways to tailor solutions to the individual—which leads to sales."
• Walk the show. See what the competition is doing. Chat with other vendors to explore partnerships and synergies. "Sometimes you don't know what other companies are up to until you see their booths. It is so much easier to start a conversation in person rather than with a cold call," Hull says. "I've made a fortune from partnerships, and most of those were initiated at trade shows."
• Think carefully about giveaways. Branded tchotchkes are destined for the garbage. Unless it is very special or unique, skip it, Singer says.
• Create promotions that gather customers' information or bring them back to you. Hull cites a company that hosted a successful trade show booth featuring beautiful models, with whom attendees could get their picture taken. To download the photos, potential customers had to log onto the company's website.
• When following up: Do not send bulk emails. Create a system to track all interactions at the show, and follow up in a personalized, systematic way.
Greg Monterrosa
Co-Founder
Company: MyLLC.com, a business incorporating service
Tactic: Walk the floor, get excited about the product.
Sales for our product require educating the customers on why they need our service. We found early on that trade shows were the most efficient way to interact with the largest number of people needing what we do. Meeting people face to face helps us build relationships more quickly than if we called or emailed.
Another benefit is that it really pumps up our employees to talk about our company nonstop. This enthusiasm is contagious and drives sales even after the show. Each booth is staffed with four "brand ambassadors," and each team contains staffers from sales and marketing, upper management and sales reps.
There is no downtime at the show. At all times, at least one of our people is walking the show floor, talking to other exhibitors, and working on alliances and partnerships.
We learned through lots of mistakes along the way. The first is to pay attention to logistics. We were booking cheaper hotel rooms but quickly learned that saving $20 per night was not worth the hassle. Now we always stay on site.
We make sure our booth looks great. One of my main concerns when shopping for a display was durability; the table and displays get beat up when they're transported. Our booth has lasted five years and still looks great. It is also flexible, in that it can be used for a 10-by-10-foot space, or if we unexpectedly find we have extra room, can be bumped out to 10 by 20 feet.
We also learned to print only generic brochures. We were ordering collateral that was specific to each event, and it was heartbreaking to throw away expensive leftover literature. Now the same flyers and pamphlets can be used at any show.
We're careful about what giveaways we invest in. Our biggest success was our branded T-shirts, which we handed out at South by Southwest in Austin last year. There was a spot on the back of the shirt where wearers could write their Twitter handles. We saw a lot of those around the show.
Our follow-up practice includes putting all leads in an Excel spreadsheet, and those we really hit it off with get a LinkedIn connection request immediately after the show. Within one to two weeks after the show, they get a phone call. That strategy has proved the most successful for us.
Allan Gourlie
Owner
Company: Quick'n Brite, household cleaner
Tactic: Exhibited at more than 400 consumer and trade shows during the past 30 years.
The key is to be active and engaged. Get out into the aisle. It drives me mad when people are selling a product and just sit in their booth and wait for someone to come in. It doesn't matter what the product is; you have to find ways to get people to come in.
About 70 percent of our sales come from shows. We have a unique model in that for our consumer shows, we do demonstrations and then make sales on the spot. Our product is concentrated and more expensive than anything you'd buy in the store, so we have to show the value through demonstrations. It is very action-oriented, with our spokespeople cleaning soap scum off glass and ballpoint pen ink off upholstery. At shows, we offer prices that are lower than Quick'n Brite sells for on the Internet, but because the demonstrations are so compelling, most people are ready to buy before we even share the price.
When we exhibit at trade shows, we invite people to come in and ask them what their needs are and what they're interested in. If there are times when we wait for people to come to us, sales drop by 50 to 75 percent.
For wholesale customers, we try to make an appointment while at the show to come to their business, where our sales associate challenges the cleaning power of whatever products they currently use. If we can't do that, we mail them information and samples, and then follow up by phone to make an appointment. It's all about the demonstration.
We usually staff with two people at each show, often a husband-wife team. I believe we should be dressed one step above the people we are talking to. Likewise, our custom-made booths look really professional, which makes a big difference. If you don't look professional, people don't take you seriously.
Niraj Tenanyf
Founder/Owner
Company: Netwoven, a consulting firm specializing in Microsoft content programs
Tactic: Create a learning environment and broadcast enticing promotions before the show.
When we first started exhibiting at trade shows, we made the mistake of assuming that if we spent enough money and showed up, people would come see us. That just didn't happen. Because we are a services company, we have to attract people to our booth in ways that product companies do not.
Right before the show, we send attendees email invitations to answer a few questions in return for the chance to win a really great prize—like a trip to Hawaii. They have to print out their answers and bring them into the booth, where we offer more information and start a dialogue.
Our goal is to create an environment of learning. Our people are well-versed in what we do and the products we support. We ask attendees a lot of questions and educate them about what we do and how we can help their companies. We also host cocktail parties where we can carry out these conversations in a casual environment.
Lots of people think the goal of a trade show is to close deals. Our goal is to generate leads and secure a meeting—hopefully later at the show in a private meeting room or through our follow-up methods.
Another role these shows play is strengthening relationships with existing customers. There is value in the visibility trade shows offer, which boosts the perception that we are a growing company. Everyone wants to do business with a winning business. We reach out to these customers before the show and invite them to have a chance at the same prize [that Hawaii trip, for instance].
Follow-up is also really important. In the past, we made a list of people we met, made a few phone calls, and if someone didn't reply, we just dropped them. Today we have a program in which attendees we meet receive a phone call and we send them materials. Then we interact with them in an effort to secure a meeting. We make sure we are very diligent in this process. Today, about 15 percent of the annual $4.5 million in sales comes from trade shows.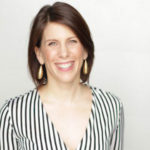 Emma Johnson is a business journalist, gender-equality activist, and founder of the world's largest community of single moms, WealthySingleMommy.com. Emma and her best-selling book, The Kickass Single Mom, and her organization, Moms for Shared Parenting, have been featured in hundreds of national and international media outlets.