Dre London on Success, Happiness and Big Energy
Dre London (real name Andre Jackson) is best known as the manager to rapper Post Malone, but that only scratches the surface of the music mogul and entrepreneur's résumé. He manages a roster of major artists such as Tyga and Tyla Yaweh, and in the fall announced the creation of his label London Music Group in partnership with the music technology platform Vydia. London is an innovator in the digital music and streaming space, piloting Post Malone's breakout album Stoney to triple-platinum status by focusing on streaming over traditional album sales. He's also a keen investor in real estate, wine and tech. Born in Brixton, South London, he moved to the U.S. to pursue his dreams in the music industry.
I'm happiest when…
I see others around me winning while I'm winning.
My favorite childhood memories are…
playing soccer, which I did until I was 13 or 14, and getting pocket money to go buy a record on a Saturday from Woolworth's. Both taught me a lot of discipline.
When I need a creative spark, I…
put together the right energy in the room. The right energy in any room syncs like Bluetooth. With the right energy in the room you can change anything in the world.
In 10 years I hope to…
become the first British-born Black billionaire.
An album that changed my life was…
Ready to Die by Notorious B.I.G.
The most surprising thing about me is…
that I can and will talk to anyone, from the janitor in the bathroom to the CEO in the boardroom.
I define success as…
making the people around you successful. If you are the only one around you that's successful, then something's wrong.
I want people to know me for…
the love and attention that I put into inspiring people—that the things I've done inspired them to change lives. Or inspired people that look like me that didn't know they could do the things I'm doing.
The biggest risk I ever took was…
leaving all my family behind for America to change their lives and to do something that I didn't know if I'd be able to do. It was just an imagination in my brain of where I ultimately wanted to be and go.
My favorite quote is…
"A wise man told me don't argue with fools because people from a distance can't tell who's who." It's from Jay-Z's song "Takeover."
I describe my vibe as…
huge energy. You feel it when I walk into the room.
This article originally appeared in the January/February 2022 Issue of SUCCESS magazine. Photos courtesy of Dre London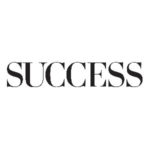 SUCCESS is your guide for personal and professional development through inspiration, motivation and training.