6 Winter Vacation Ideas to Finish the Year Off Well
Summer might be over, but that doesn't mean you have to press pause on your travel plans. Winter is a wonderful time to explore, especially if you're hoping to avoid the crowds of peak travel season. It's also an opportunity to reflect on the past year and reward yourself for all you've accomplished. No matter where you choose to finish off the year, make it count. From surf towns to centuries-old cities, adventure awaits in these six winter destinations around the world.
Winter vacation ideas for surfing and sunsets: Santa Teresa, Costa Rica
It's easy to lose yourself in the natural beauty of Costa Rica. Home to more than half a million species of wildlife and about two hundred volcanic formations, Costa Rica is awe-inspiring at every turn. In Santa Teresa, a small beach town in the Puntarenas Province, you can really unlock the "pura vida" mindset.
Days start with surfing and end with some of the best sunsets you'll ever see. In between, there are plant-friendly cafes to fill your stomach and yoga classes to feed your soul. If you're one of the many Americans now working remote, consider extending your trip by a week or two. Coliving sites like Selina and Outsite offer long-term accommodation and a collaborative environment to connect with other remote workers and digital nomads.
For wellness and water sports: Bimini, Bahamas
One of the best things about Bimini in the Bahamas—besides the sunshine and turquoise-colored sea—is that it's really easy to reach. There's a once-per-day ferry from Miami that gets you to Bimini in just two hours. There's something for every interest here, which makes Bimini an ideal destination for families and groups with different travel styles. Aside from popular water sports like jet skiing and paddleboarding, Bimini is home to several shallow snorkeling sites where you can see everything from shipwrecks to coral reefs. If you dare, go reef shark diving at Triangle Rocks. After all that adrenaline, it's time for some rest and relaxation. Magnesium therapy is helpful in flushing out toxins and relaxing tired muscles while a bamboo massage can improve your sleep quality.
For gastronomy and Gaudí: Barcelona, Spain
Barcelona might be a city by the sea, but summer is by no means the only season to visit. In fact, winters in Barcelona are sunny and significantly more manageable thanks to fewer crowds and easier access to top restaurants, museums and other cultural attractions like the famous Park Güell. December, in particular, boasts great weather—a stroll along Barceloneta Beach feels a bit like Venice in Los Angeles. For a major European city, Barcelona is fairly manageable in size and scope, making it possible to do more with less time. Make your very own pair of Espadrilles or take a masterclass on whipping up culinary favorites like paella. A stroll along the picturesque Passeig de Gràcia takes you past two of Gaudí's famous buildings (now museums you can visit): La Pedrera-Casa Milà and Casa Batlló.
For winter sports and spa breaks: Whistler, Canada
Whistler might have hosted the 2010 Olympic Winter Games, but don't don't let that prestigious honor deter you from hitting the slopes. Located 78 miles north of Vancouver, in a mountainous part of British Columbia, Whistler has 8,100 acres of snow-covered terrain and more than 200 marked trails for winter sports enthusiasts. Of course, there are plenty of other outdoor activities to try, from snowmobiling and ice climbing to bobsledding and snow tubing. You can even head into Whistler Village for a night of outdoor ice skating amidst twinkling lights and a star-filled sky. After a day on the slopes, a trip to the spa is in order. Take a dip in an outdoor thermal spa surrounded by lush foliage or indulge in a hydrafacial that helps alleviate congested pores and evens out your skin tone.
For holiday cheer and cocktails: New Orleans, Louisiana
Hear us out: Winter is one of the best times to visit New Orleans. While the city always boasts a celebratory energy, the fall and winter months feel extra special. You don't have to be a guest at The Roosevelt Hotel to enjoy their decadent holiday display. Every year, the hotel's spacious lobby transforms into a winter wonderland, complete with 112,000 lights, 1,600 feet of garland, and 4,000 glass ornaments. Families will also enjoy the elaborate light displays at City Park. For a different type of whimsy, head to The Carousel Bar & Lounge for a revolving bar—that looks and functions like a very slow-moving carousel—serving creative cocktails. For seasonal cocktails, Gris-Gris is your go-to. They're always whipping up unique concoctions like the 'Zombi Nog' and frozen eggnog daiquiris.
For street art and salsa dancing: Cartagena, Colombia
Swapping a cold, gray winter for the colorful streets of Cartagena is a bit like flipping the channel between an old black-and-white classic to a film in high-definition. There's a lot of history here, from the old, colonial-styled city walls to the San Felipe Castle dating back to the 1600s. After wandering through the old town with its 400-year-old houses and endless photo ops, head over to the Getsemaní barrio. While Getsemaní once left lots to be desired, the now-trendy neighborhood is filled with hip hotels, artsy cafes, a lively nightlife scene and some very creative—if not politically charged—street art. Although Cuba is the birthplace of salsa, it's a popular dance style throughout Colombia. Take a class to learn the basics or attend a live performance at places like 1968 Salsa Show.
Photo by DavideAngelini/Shutterstock.com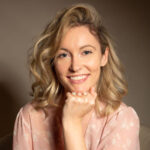 Megan Eileen McDonough is an award-winning writer and social photojournalist who splits her time between Barcelona and Virginia. In addition to running top-ranked blog, Bohemian Trails, McDonough's writing has appeared in publications such as Lonely Planet, US Airways, Teen Vogue, Fodor's, and Bustle among others. She's been featured in Travel + Leisure, AFAR, Refinery29, and Forbes as a leader in the travel space. McDonough also works as a brand strategist, helping to define content direction, curation, and compelling storytelling. Follow her on Instagram @itsmeganeileen.