8 Things That Motivate Lawrence Mestel
Who?
Lawrence Mestel, founder & CEO of Primary Wave Music
Where?
New York, NY
What?
A veteran of the entertainment industry, Lawrence Mestel was a top executive at Arista Records, Island Records and Virgin Records before starting his music publishing and talent management company, Primary Wave Music. He and his team manage musicians such as Melissa Etheridge, CeeLo Green, Brandy and The Isley Brothers, and have acquired the catalogs of such legends as Kurt Cobain, Smokey Robinson and Bob Marley. He lives half his life traveling to meet musicians and the other half between New York City and Vermont with his family.
My favorite quote is…
"Be daring, be different, be impractical, be anything that will assert integrity of purpose and imaginative vision against the play-it-safers, the creatures of the commonplace, the slaves of the ordinary." –Cecil Beaton
I always smile when…
My kids achieve anything on their own, from telling a joke to achieving at school, to just seeing their own smile.
The best movie I've seen recently is…
Once Upon a Time in Hollywood.
Loved it!
My morning routine is to…
Think of the two things I want to accomplish at work that day when I'm showering. I also put on my underwear, then my left sock, then my right sock, then my jeans, then my shirt—the same order every day.
In 10 years I hope to be…
Doing exactly what I'm doing right now in music. But I would also like to attend a Super Bowl (watching our New York Giants) with my dad and my son—possibly even my son's son by then.
I am working toward that 10 year goal by…
Accumulating and partnering with some of the greatest music catalogs and artists' music publishing rights of all time.
When self-doubt creeps in, I handle it by…
Retreating to Vermont and taking a walk in the woods. I think very clearly when I am in the mountains.
I define success as…
That delicate equilibrium between a happy team, happy artists we represent, happy investors, and happy friends and family. When all of those are achieved at the same time, that's the definition of success for me.


This article originally appeared in the January/February 2020 issue of SUCCESS magazine.
Images courtesy of Daphne Youree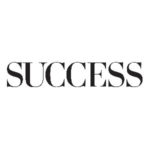 SUCCESS is your guide for personal and professional development through inspiration, motivation and training.