20 Olympic Quotes to Inspire You to Do Better and Be Better
The Olympic Games bring a sense of togetherness, inspiration and motivation that no other sporting event can. This year, we look to the best of the best to find a piece of ourselves, something we can relate to, a dose of ferocity and grit that we can apply in our own lives.
Related: 10 Tips to Achieve Anything You Want in Life
Let these quotes, from Olympians old and new, inspire you to constantly set the bar higher.

USOC/NBC OLYMPICS
1. "Never quit. Never give up." —Gabby Douglas, gold-medal gymnast
---
CITIZEN59/FLICKR
2. "Failure I can live with. Not trying is what I can't handle." —Sanya Richards-Ross, gold-medal track and field athlete
---
WIKIMEDIA COMMONS
3. "I don't run away from a challenge because I am afraid. Instead, I run toward it because the only way to escape fear is to trample it beneath your feet." —Nadia Comaneci, gold-medal gymnast
---
CURT GIBBS/FLICKR
4. "I am building a fire, and every day I train, I add more fuel. At just the right moment, I light the match." —Mia Hamm, gold-medal soccer player
---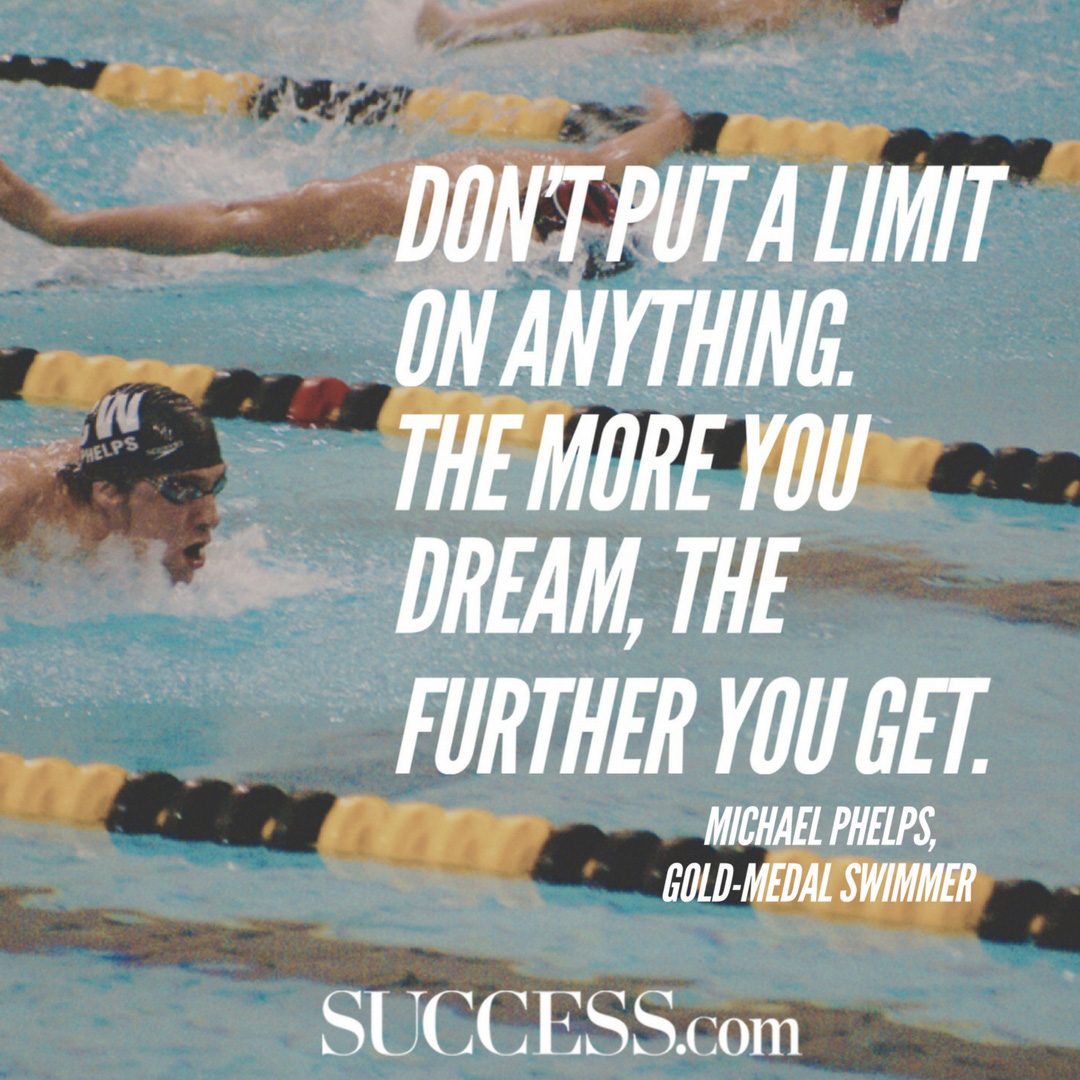 KAREN BLAHA/FLICKR
5. "Don't put a limit on anything. The more you dream, the further you get." —Michael Phelps, gold-medal swimmer
---
DEREK MARKHAM/FLICKR
6." If you dream and allow yourself to dream, you can do anything." —Clara Hughes, gold-medal cyclist and speed skater
---
ADIRAN8_8/FLICKR
7. "The most important thing in the Olympic Games is not winning but taking part; the essential thing in life is not conquering but fighting well." —Pierre de Coubertin, father of the modern Olympic Games
---
JESSICA QUIRK/FLICKR
8. "The advice I will give to my children, if and when they have Olympic aspirations, will be to go for it." —Kerri Walsh, gold-medal beach volleyball player
---
WIKIMEDIA COMMONS
9. "Part of being a champ is acting like a champ. You have to learn how to win and not run away when you lose." —Nancy Kerrigan, bronze and silver-medal figure skater
---
JARROD DOLL/FLICKR
10. "To uncover your true potential you must first find your own limits, and then you have to have the courage to blow past them." —Picabo Street, gold-medal skier
---
CLIFF/FLICKR
11. "He who is not courageous enough to take risks will accomplish nothing in life." —Muhammad Ali, gold-medal boxer
---
POINTNSHOOT/FLICKR
12. "I don't think you're human if you don't get nervous." —Sidney Crosby, gold-medal hockey player
---
WIKIMEDIA COMMONS
13. "We have the can-do factor, and us doing what we do I think inspires people to just try that little bit harder, whether they are able-bodied or disabled." —Lee Pearson, gold-medal para-equestrian
---
WIKIMEDIA COMMONS
14. "If you don't have confidence you'll always find a way not to win." —Carl Lewis, gold-medal track and field athlete
---
WIKIMEDIA COMMONS
15. "I have a rule on my team: When we talk to one another, we look each other right in the eye, because I think it's tough to lie to somebody. You give respect to somebody." —Mike Krzyzewski, gold-medal basketball coach
---
GRZEGORZ JERECZEK/FLICKR
16. "There's always a point where you get knocked down. But I draw on what I've learned on the track: If you work hard, things will work out." —Lolo Jones, gold-medal bobsledder and track and field athlete
---
SHINYA SUZUKI/FLICKR
17. "Nothing can substitute for just plain hard work." —Andre Agassi, gold-medal tennis player
---
DAVID/FLICKR
18. "Focus, discipline, hard work, goal setting and, of course, the thrill of finally achieving your goals. These are all lessons in life." —Kristi Yamaguchi, gold-medal figure skater
---
NICK WEBB/FLICKR
19. I work hard. And I do good. And I'm going to enjoy myself. I'm not going to let you restrict me." —Usain Bolt, gold-medal track and field athlete
---
US EMBASSY/FLICKR
20. "If you think you're done, you always have at least 40 percent more." —Lauren Crandall, Olympic field hockey player
Cecilia Meis is the editorial director for SUCCESS and a digital nomad. She writes about other digital nomads, solopreneurs and the future of work.