10 Apps to Help Put You in the Right Headspace
(Free)
When you're super-stressed about a work project or had a tense conversation with a friend, open this app to calm yourself down. Calm features guided meditations and nature sounds, as well as advice for reaching a peaceful state.
($0.99; iOS only)
If you wake up constantly in the middle of the night but don't want to splurge on a pricey white-noise machine, this is the app for you. Whether it's a power nap or a full night's rest, mix and match certain sounds to create the perfect sleep environment.
(Free)
Newbies and experts alike can use this app for their daily dose of meditation. Choose a theme (feelings, focus, sleep, stress release, emotions or relationships) and find the right meditation plan for you.
(Free; iOS only)
This all-in-one deep-breathing app offers a guided experience that helps users know exactly when to inhale and exhale. The app also features lessons on specific types of breathing, like Ujjayi breath and Pranayama breath.
(Free)
This comprehensive app helps people who are anxious or overly stressed relax over time. The app tracks users' progress and helps them manage their anxiety on a daily basis through strategies based on cognitive behavioral therapy and mindfulness meditation. The app features a mood tracker as well as daily challenges and goal tracking.
(Free)
If you want to bring a bit of fun to the relaxation process, this is the app for you. Happify uses science-based games that can increase your daily happiness in small doses. Users can select the game category (savor, thank, aspire, give, empathize, etc.) to hone in on their specific happiness goals.
($1.99)
This retro app features a moldable blob (similar to a ball of lava in a lava lamp) that users swipe across the screen with their fingertip. The app aims to help users slow down and lower their anxiety through focusing on the motion of blob on the screen.
(Free; Android Only)
Calling all restless sleepers! This app allows you to choose from myriad nature sounds to help you get a good night's sleep. Sound options include everything from thunder, the ocean and birds to rain, the jungle and waterfalls.
(Free)
One of the most popular meditation apps on the market, Headspace allows users to practice meditation and mindfulness through daily exercises. The free version of the app (upgrades are available) features 10-minute guided meditations for 10 days.
($0.99; iOS only)
What's more relaxing than looking at Earth from outer space? Look at beautiful views of Earth through footage captured by NASA astronauts. Control your view with your fingertips while listening to one of eight relaxing, ambient soundtracks.
Related: 10 Must-Have Apps to Streamline Your Life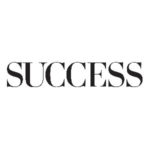 SUCCESS is your guide for personal and professional development through inspiration, motivation and training.