SUCCESS Talks Collection November 2017
In this month's edition, SUCCESS talks with Scooter Braun, owner of SB Projects, one of the most powerful talent management companies in entertainment, about the powerful force of vulnerability. We also chat with best-selling author Amy Blankson on how technology has both simplified and complicated our lives. We also hear from Anne Grady, author and popular TEDx speaker about what it really takes to build resilience. Finally, you'll hear from Lewis Howes, New York Times best-selling author to discuss his new book, The Mask of Masculinity.
"I've had an amazing run in my career. It could end tomorrow. I have artists who love me and I love them, but they could call me tomorrow and say 'I don't wanna work with you.' I've embraced the fact that one day I might get screwed. If that day come, and artists I've had incredible runs with just break my heart one day. You know what? I still got to do stuff that was actually really incredible. When that day comes, I'll deal with it. Until then, I'll be grateful for today."
"Just taking two seconds at the beginning of the day to set your intention as an individual, human being for your life—how you wanna interact—that helps you to be more effective, more focused and more the person that you want to be."
"You don't have to be perfect. You just have to be strong enough. You just have to have the skills to help you navigate through the situation, and if you use it properly, you become stronger as a result."
"Reconnect to the fact that we're all human beings, we're not perfect and that it's okay to not wear a mask like we are perfect in every situation in our life."
SUCCESS Talks features fascinating interviews with prominent business, creative and thought leaders such as Tony Robbins, Anne Sweeney, Richard Branson, Tim Ferriss and Barbara Corcoran. SUCCESS Talks focuses on helping the listener nurture and develop their mind, body and spirit. Each month is thematically different and includes key takeaways designed to help you achieve your biggest goals and live your true passion.
Catch up on all episodes at SUCCESS.com/SUCCESSTalks.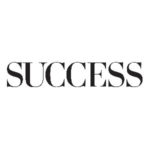 SUCCESS is your guide for personal and professional development through inspiration, motivation and training.