SUCCESS Talks Collection December 2017
In this month's edition, SUCCESS talks with Jennifer Hyman, co-founder and CEO of Rent the Runway, about the importance of confidence and taking risks. We also chat with Lisa Bodell, founder and CEO of Futurethink, about the need for balance and how to plan for meaningful work. We also hear from National Geographic fellow Dan Buettner about what factors determine happiness. Marilyn Paul, author of An Oasis in Time, shares the importance of carving out time for rest. Finally, you'll hear from Carson Tate, creator of the Work Smarter, Not Harder productivity program, about the four types of productivity personalities.
"We derive confidence as women from what we wear, and often the idea of buying something new is because it makes us feel a different way about ourselves. How we want to feel when we go to the beach is different than when we go to a business meeting… Clothing enables people to self-express."
"It's not about getting more done on your to-do list. Really, it's about what's on your to-do list in the first place… The point is, are you spending your time on things you should be checking off?"
"Many Americans are slightly misguided when they think, 'The more money I have, the happier I'll be'… Money buys happiness to the point of food, shelter, health care, some mobility, some education. But after that, money doesn't buy much or any happiness when it comes to how we experience our lives."
"What we know is that even 2,600 years ago, people needed to stop and pay attention to another part of their minds, hearts and souls. And that renews them very deeply."
"When you're in this quagmire of overwhelm and everything is hard, you become myopic. And all you can see is that next email or that next crisis, and you forget about the possibilities beyond this moment. When we lose our perspective on the broader world and what's possible, then we lose our ability to innovate, to create."
SUCCESS Talks features fascinating interviews with prominent business, creative and thought leaders such as Tony Robbins, Anne Sweeney, Richard Branson, Tim Ferriss and Barbara Corcoran. SUCCESS Talks focuses on helping the listener nurture and develop their mind, body and spirit. Each month is thematically different and includes key takeaways designed to help you achieve your biggest goals and live your true passion.
Catch up on all episodes at SUCCESS.com/SUCCESSTalks.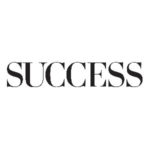 SUCCESS is your guide for personal and professional development through inspiration, motivation and training.