Simon T. Bailey on 31 Insights to Creating an Awesome Life
This episode is sponsored by altMBA.
Uncomfortable with being comfortable, Simon T. Bailey knew it was time for a change. For that to happen, though, he needed to develop an intense belief in himself and his abilities. Now the author, speaker and entrepreneur travels the world inspiring thousands of people to step up and rewrite their belief stories. Bailey and SUCCESS.com's Shelby Skrhak talk morning routines, asking yourself "what's missing?" and how to stay focused on the big picture of your life.
This interview appears on the SUCCESS Talks Collection, available in the August 2017 edition of SUCCESS magazine.

SUBSCRIBE on iTunes, Stitcher or your favorite podcatcher app so you don't miss an episode!
Takeaways:
Even after you realize it's time for a change, change doesn't happen overnight. Learn why patience and dedication are vital to achieving the change you want.
Your beliefs shape who you will become. If you believe you'll always be where you have always been, that's where you'll stay.
Our beliefs are safe; we don't like change. Learn the Bailey way to get out of your own way and start believing in your ability to succeed.
Favorite quote from this episode:
"Whomever has your ear, has your life. Who speaks into your life, because that is where belief really starts."
—Simon T. Bailey
You might also like…
Sponsors:
Thanks to altMBA for sponsoring SUCCESS Talks. altMBA is now accepting applications. To find out more, visit altmba.com/successtalks. For special consideration, mention this podcast in your application and tell them SUCCESS sent you!
SUCCESS Talks, the popular audio program included every month in SUCCESS magazine, is now available as a weekly podcast. We feature fascinating interviews with prominent business, creative and thought leaders such as Tony Robbins, Richard Branson, Tim Ferriss and Barbara Corcoran, and include key takeaways designed to help you put information into action.
Catch up on all individual episodes at SUCCESS.com/SUCCESSTalks or download the monthly SUCCESS Talks Collection with your magazine subscription.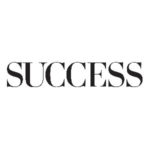 SUCCESS is your guide for personal and professional development through inspiration, motivation and training.