In the May Issue of SUCCESS, Take a Look Inside the Life of Michelle Phan and Discover How She Turned One YouTube Makeup Tutorial Video Into a Multimillion-Dollar Beauty Empire
DALLAS — Michelle Phan made a YouTube tutorial video for how to apply natural-looking makeup in 2007 from her home in Tampa, Florida. Flash forward a decade later and she now has a wildly popular YouTube channel with over 1 billion lifetime views, a beauty subscription service, ipsy, valued at $500 million, her own makeup line, EM Cosmetics, and a book, Makeup: Your Life Guide to Beauty, Style, and Success—Online and Off.
Born in Boston to Vietnamese immigrants, Phan says she was always an outsider growing up. She spent most of her time alone, sketching and blogging. She was met with numerous challenges as a child—her family's money issues led to numerous evictions and she constantly had to change schools. But she believes these struggles have helped mold her into the successful person she is today. "All these trials you go through really do forge you," she says. "They've forged me. It's like bones. Every time you break your bone it becomes stronger."
Now based in Santa Monica, California, the beauty maven prioritizes balance in her life. After too much daily grinding led to burnout, she shifted her priorities to focus more on meditating, spending time in nature and traveling, while also maintaining her businesses. She also holds a big-picture perspective of the success she has achieved in such a short amount of time—she followed her calling and built something amazing from scratch and she believes if others follow their true calling, they can, too.
"You become successful based on everything that you encounter in life, good or bad. It shapes who you are and who you need to be today."
—Michelle Phan tells SUCCESS in the May 2017 issue
Also Inside This Issue
SUCCESS Magazine's May issue centers on the theme of abundance. Discover how you can leverage an abundance mindset and prepare yourself to live a rich, fulfilling life. Each article in this issue—from a profile of a brave entrepreneur who beat all of the odds to be successful, to a lesson in the importance of investing in yourself—will leave you with the tools you need to make the most of the infinite possibilities ahead of you.
The Game of Life:

In this article, associate editor

Jamie Friedlander

challenges herself to "gamify" her life in The Sims. Will making positive changes in her virtual life, such as waking up early and being more social, inspire her to make similar changes in her real life?
Averaging Out To Me: The old adage says that you are the sum of the five people who you spend the most time with. Our writer,

Michael Graff

, tested this theory and attempted to determine if he needed to make any changes to his inner circle.

How I Do It in The YouEconomy:

Read the stories of four everyday people who are thriving in the YouEconomy. From a cycling studio owner to a Lyft driver, these people are living their lives how they want, when they want, where they want.
For full stories, pick up the May issue, on newsstands April 11. For more information about SUCCESS Magazine and additional personal development content, visit www.success.com.
About SUCCESS
SUCCESS magazine is a national newsstand publication and your guide to personal and professional development through inspiration, motivation and training. SUCCESS inspires 2 million readers a month, and has a total social reach of 5 million fans. SUCCESS magazine was founded in 1897 by influential thinker Orison Swett Marden. It is owned by Dallas-based SUCCESS Partners founded by Stuart Johnson.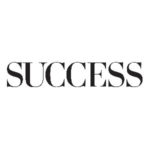 SUCCESS is your guide for personal and professional development through inspiration, motivation and training.