How to Handle Haters: Advice from 3 Resilient Entrepreneurs
One of the most painful experiences in life is moving toward a goal or dream, only to face those whom you love most, rejecting your ideas and even you.
If your decisions about a career move, relocation, lifestyle or relationship mean your loved ones refuse to support you, even threaten to leave your life, the road ahead of you can be a long one. Your relationship might require extra care and patience. Or you might require a long time to heal from the loss of that relationship. If this sounds familiar, here are some steps to consider:
1. Listen.
It is hard not to take rejection of your ideas personally, especially those that you are most passionate about. Listen to your loved ones' reasoning. Key into the parts about how much they love you and worry about you. Perhaps you will hear in their message fear of losing you, their own insecurity or their own regrets about risks they did not take.
One of the most painful experiences in life is moving toward a goal or dream, only to face those whom you love most, rejecting your ideas and even you.
2. Be patient.
They might come around. A fracture in the relationship can, and often does, heal. Perhaps you will eventually change your course, or they will change theirs, and life will reconnect you in unexpected ways.
3. Accept.
Change and growth require letting go of relationships, habits and practices that no longer serve you. Sometimes that means loving connections leave your life or are minimized. It is painful and necessary.
4. Never compromise yourself.
Never compromise yourself for the approval of those who want you to be smaller than you are. Godspeed.
Bruce Cameron
54; executive coach and federal prison consultant; Dallas
I had a long career with the Department of Justice but longed to own my own business and make my own decisions. After I retired, my wife and family wanted me to take a predictable, boring agency job. It was a tough time for my wife and me. She had enjoyed the safety and security of my staff career for 25 years. For me to step out on my own with a very tiny safety net was scary for her. I also think she doubted my abilities to swiftly build and sustain my practice. All the other doubters were really upset, although I was patient with my wife. I explained that if I failed, I could always go back to boring agency work like many of my fellow retirees—to do that would have been an existential death. As I built my business, I gave her feedback along the way. I felt alone. I managed to find some C-suite executives who supported and encouraged me, which gave me confidence I was not getting from loved ones. I managed not to become bitter and to push through all doubts, to emerge as a major player in my sector. My wife and I made it.

Ramon Khan
30; digital marketing director; Houston
Four years ago, my wife and I announced to our loved ones that we had become vegan—this after being a huge meat eater, followed by three years of vegetarianism. The pushback was all around. My sister was extremely upset that we would not all be eating traditional holiday meals; my in-laws made fun of us and insulted us straight to our faces; friends pushed the issue like they were getting paid to do it; and our parents on both sides were extremely concerned about our kids—to the point of feeding them animal products behind our backs. All of this obviously strained all of our relationships, and it was a very long and hard transition period for all of us. Over two years, people realized that what we were doing was better for us, and they really started to notice our passion for being plant-based. Since then, our family members started to embrace our lifestyle, accommodating meals at special events, buying us plant-based products and even making healthier changes in their own lives. In the end, all of the relationships survived and are doing well.

Patrick Sweeney
46; serial entrepreneur and investor; Boston and Chamonix, France
I had two major decision moments in my life that my parents didn't support. I was the first in my family to graduate college and get a "real job" as an associate for a group of entrepreneurs my first year out of school. By then I'd hit my family's upper limit of their idea of success. Then I got a tryout for the U.S. Olympic rowing team—a sport I picked up in college—and became a national champion. When I made the team, I quit my job. For the first 18 months, my parents wouldn't talk to me because they thought I was throwing my life away. They were afraid of my failure. I finished second in the 1996 Olympic trials, raced the World Cup all over the globe and met my wife. My parents finally came around when I started winning and didn't believe life could get better than that. I was still filled with a lot of fear of being rejected by my family and friends, but I had more fear of missed opportunities. After the Olympics, I earned my MBA and got another dream job working in data center technology. I was earning more than $100,000 a year (way more than my parents' combined income) when I decided to leave it all to start my own company. It was déjà vu all over again, and they thought I was crazy. I raised more than $30 million and eventually built and sold three international technology companies.

This article originally appeared in the September 2017 issue of SUCCESS magazine and has been updated. Photo by @Miverano/Twenty20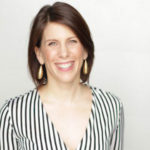 Emma Johnson is a business journalist, gender-equality activist, and founder of the world's largest community of single moms, WealthySingleMommy.com. Emma and her best-selling book, The Kickass Single Mom, and her organization, Moms for Shared Parenting, have been featured in hundreds of national and international media outlets.