Ep. 67: Boost Self-Belief With These 10 Steps
This week's episode is sponsored by FreshBooks.
What do you believe in? Belief is the foundation for so many things in our lives. On this week's episode, Josh and Shelby give you a sneak peek at this month's issue of SUCCESS, focused on the power of belief. They sit down with cover figure Bishop T.D. Jakes for a quick chat. Associate Editor Jamie Friedlander reads an excerpt from her moving story "Me of Little Faith." And Josh and Shelby go through some action steps you can take to bolster your self-belief.
Takeaways:
Jakes describes the fuel behind his self-belief:
Believing the pursuit is worth it
Being committed to the process, not the goal
Doing what it takes to get things done
How Jakes maintains his faith in others: "By and large, most people really have an inherent goodness about them where they really want to be the best part of themselves. And I think that as you go along, you get an instinct and a sensitivity to know when you're helping somebody who wants to go up or you're pouring into somebody who insists on being down."
Jakes gives some tips for reclaiming your faith:
Adjust your attitude—have hope.
Remind yourself that you're not alone.
Realize that people at the top usually rise from the bottom.
Josh and Shelby offer extra tips to boost your self-belief:
Reflect on how much you worry, and don't let anxiety hold you back.
Be yourself, and celebrate your flaws.
Find your allies.
Live a healthy life.
Love yourself, and have a little self-compassion.
Diversify your best skills—apply them wherever you can.
Have empathy.
Search for the good.
Suffer well by taking it easy on yourself. Mistakes happen.
Look in the mirror. Be as trustworthy as you'd want others to be.
How has self-belief influenced your life? Tell us by emailing [email protected].
Favorite quote from this episode:
"When you lose a sense of hope and faith and have no goal, you will easily be blown over…. You have to have enough strength in your arms and in yourself to say, 'Ya know, I'm going to swim whether the current is going with me or not.'"
—Bishop T.D. Jakes
You might also like…
Sponsors
FreshBooks is offering a 30-day, unrestricted free trial to our listeners. To claim it, just go to FreshBooks.com/insider and enter Success Insider in the "How Did You Hear About Us?" section.
SUCCESS Insider is a weekly podcast to engage, educate and inspire emerging leaders and success seekers.
Every week, SUCCESS.com's Shelby Skrhak and SUCCESS magazine's Josh Ellis will discuss the latest trends in personal empowerment, entrepreneurship and career development. We'll dig into books, ideas and news you'll want to know about. We'll chat with special guests, including authors, industry experts, business leaders, trendsetters on our staff and other all-around successful people. And we'll have a lot of fun doing it. Join us!
Find complete SUCCESS Insider archives at SUCCESS.com/successinsider.
Find more SUCCESS podcasts at SUCCESS.com/podcasts.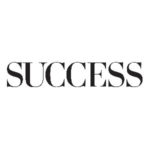 SUCCESS is your guide for personal and professional development through inspiration, motivation and training.